---
I have an affiliate relationship with
Bookshop.org
and
Malaprop's Bookstore
in beautiful Asheville, NC. I will earn a small commission at no additional cost to you if you purchase merchandise through links on my site. Read more on my
affiliate page
.
---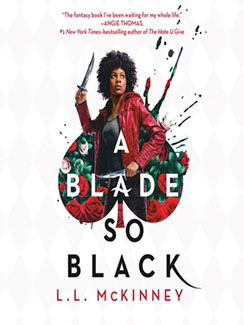 Title: A Blade So Black
Author: L. L. McKinney
Narrator: Jeanette Illidge 
Series: The Nightmare-Verse #1
Genre: Fantasy
Audience: Young Adult
Format: Audiobook
My Synopsis:
The night Alice's father dies, her entire world changes, and not only in the way you might expect. In her grief, she runs from the hospital and straight into a literal monster in an alleyway. Just when she thinks she's going to die, a young man appears out of nowhere, slays the monster, and introduces her to a world she never could have dreamed of.
A year later, Alice is a Wonderland monster hunter herself, trained by Addison Hatta, the guy who saved her from her first monster. Nightmares (for so the monsters are named) are becoming more common in Wonderland and even slipping through to the real world. When a new foe attacks her, Alice has to make difficult choices to keep her loved ones safe.
My Review:
I really enjoyed this concept and these characters, but I wish the storyline had been tightened up a bit. Alice's whole first mission (Or maybe two? I've waited a bit too long on my review) ultimately felt like filler. There's some setup for the main conflict and the worldbuilding element but that part really could have been cut down a lot.
Alice herself is a badass. She's strong, she knows her abilities, and she's confident. What a deadly combination. She's also a great big geek and loves to cosplay. She and her dad bonded over the elaborate costumes they designed.
I loved Alice's mom too. In so many young adult books, the parents are absent, either physically or emotionally. Alice's mom had a rough patch after her husband died, but she is ever-present in her daughter's life now. Alice has curfews and consequences, and mom is not afraid to tell her off in front of her friends and tell them off too if she feels they deserve it. It's so obvious that she's coming from a place of love. She fears for her daughter in a reality where being Black can be a death sentence.
The Nightmare monsters that Alice fights are based on fears in the real world. The more widespread the fear, the stronger the Nightmare. One almost defeats Alice in an event that we learn about in a flashback. The fear that fed this Nightmare? It's a fear that's unfortunately common (for good reason) among Black people in America: the fear of doing everything right, playing by the unfair rules, and still getting shot and killed by police for being in the in the wrong place at the wrong time. It's chilling because it's so grounded in reality.
And the ending? What a cliffhanger! One of the worst I've read in a while! Luckily the sequel, A Dream So Dark, is already available.
I didn't directly recognize this Wonderland landscape from the Carroll books, but it did feel like a corner that the original Alice just never got around to exploring. Several characters successfully crossed over to this book. Tweedledee and Tweedledum, the Mad Hatter, the Dormouse, the White Queen, and maybe the Cheshire Cat? The jury's still out on that last one. It was fun to see how they morphed to fit into this edgier version of Wonderland and/or our own world.
I thought narrator Jeanette Illidge did a fantastic job with the narration.
I recommend this if the thought of a grittier Wonderland intrigues you. Hopefully the quibbles I had with this debut novel will be worked out in the second book.
Recommended by:
Nicole at BookWyrm Knits
Similar Books:
If you liked A Blade So Black, you might also like my reviews of
Purchase:
Buy A Blade So Black from Malaprop's Bookstore in Asheville, NC.
I have an affiliate relationship with Malaprop's Bookstore/Cafe in beautiful Asheville, NC. I will earn a small commission at no additional cost to you if you purchase merchandise through links on my site.
Reading Challenge: