---
I have an affiliate relationship with
Bookshop.org
and
Malaprop's Bookstore
in beautiful Asheville, NC. I will earn a small commission at no additional cost to you if you purchase merchandise through links on my site. Read more on my
affiliate page
.
---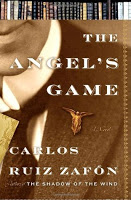 David Martín is a writer of penny dreadfuls who is offered a huge sum of money to write a book for a French publisher. He can't find any evidence that the publisher actually exists though, and violent things start happening to David's friends and colleagues.
I was rocking through the first half of the book, loving Ruiz Zafón's writing, and then I just stopped caring a little over halfway through. I'm not entirely sure what happened. I think I got sick of having absolutely no freaking idea what was going on. Yeah, I knew who the publisher was, but I didn't know how that was going to tie into everything else. I read this using this really cool post-it-flag bookmark my husband gave me, because I knew that I would probably have tons of quotes I loved in here. The last one is at page 324 out of 531 pages. There's no big event that I can find there, I think that's just where I ran out of patience.
I loved Ruiz Zafón's previous book, The Shadow of the Wind, and I have a feeling that a re-read would bump that one up to five stars. I missed having a Fermín. There wasn't really anyone to give any lightness or grace to the story. It was all darkness and despair. The relationship between David and Isabella gave a few lighter moments, but he ended up hurting her feelings more often than not, so those were pretty limited. This is sort of a companion to Shadow, and I had a hard time figuring out how and when they fit together. I was confused about how Daniel was consistently described as being shy and sort of boring, when that wasn't the Daniel that I knew from Shadow. I don't think this is a
*****SPOILER*****, but
this Daniel is the father in Shadow.
******END*****
I have to say, my hat is off to the translator, Lucia Graves. She did one heckuva job translating this. The story might have lost me a little, but the writing is still lyrical, and that has to be as much to her credit as to the author's.
Maybe I should have put this aside and tried it again later when I realized that I had started to lose interest. I don't think that would have made a difference though. It's still a dark, Gothic novel that fans of that genre will still probably love. I just preferred The Shadow of the Wind much, much more.