---
I have an affiliate relationship with
Bookshop.org
and
Malaprop's Bookstore
in beautiful Asheville, NC. I will earn a small commission at no additional cost to you if you purchase merchandise through links on my site. Read more on my
affiliate page
.
---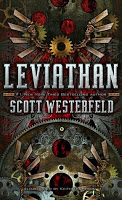 Aleksandr Ferdinand is the son of the Archduke of the Austro-Hungarian empire. He finds himself on the run one night with a few loyal men and a Stormwalker, a two-legged machine that sounds like something out of Star Wars. Deryn Sharp is a girl who loved to fly with her father. Now that he's dead, her only hope of flying again is to disguise herself as a boy and join the British Air Service.
I loved this world that Westerfeld created. The Star Wars type machines of the Clankers set against the fantastical animals created by the Darwinists was just a lot of fun. Who doesn't love the idea of a whale that's evolved to fly? It was all just so whimsical that I loved it. And then to choose to set these people down smack at the beginning of World War I rather than in the future really just tickled me.
I loved the illustrations too. The detailed pencil drawings added the perfect touch to the story for me.
Alek and Deryn were great characters. They were both about fifteen or sixteen and they already had strong personalities, but I liked watching them grow and learn throughout the book. There was one point where I got pretty upset with Deryn, and I can't decide if I think she acted out of character or if people who blindly follow orders without any thought of their own just irritate the heck out of me. Either way, I got past it and she did too.
For the record, I was not a huge fan of Westerfeld's Uglies, but I really did love this book. So if you didn't really care for his earlier book either, don't let that turn you off this new series. It was a great adventure story with amazing creations and characters that I really liked. I recommend it.