---
I have an affiliate relationship with
Bookshop.org
and
Malaprop's Bookstore
in beautiful Asheville, NC. I will earn a small commission at no additional cost to you if you purchase merchandise through links on my site. Read more on my
affiliate page
.
---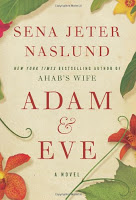 Lucy Bergmann's husband Thom, is a brilliant physicist who is searching for life on other planets in the near future. He is killed in the opening chapter of the book, and we're led to believe that religious nuts who didn't want his discoveries published might have been behind his death. A few years later, Lucy herself is being pursued by a group of religious nuts as she transports an ancient document that will cast a new light on the story of Genesis.
I do love Sena Jeter Naslund. I really do. I was thrilled when I won an ARC of her newest book through Shelf Awareness. I was so disappointed when I didn't understand it. I didn't understand it at all.
I hate to write this, because it feels like I'm getting a little personal, but the plot was a mess. I don't know if this was supposed to be a religious thriller/conspiracy book, a pointed statement on the role of religion in world politics, a coming-of-age story, a meditation on marriage and self-identity–I just don't know. There are at least two distinct plots involving Lucy, and I don't understand how they fit together at all. While the scenes set in Eden were gorgeous and lush, I don't really understand how they were necessary. Oh, I get that it's something about the nature of man, but still, it's a long, beautiful section with about zero payoff that I could see. In case you're wondering, questioning religion does not offend me, so that's not the problem.
The one thing I did love is Adam. I've written a long-ish blog post already about how much I love him. He's pretty much physically perfect, gorgeous, well-sculpted, loving, caring, but he's a little damaged emotionally and mentally. I don't know if there's a woman alive who could resist that combination!
The very end was horrible! It felt cheap, and Sena Jeter Naslund is a much better author than that.
I did like the alternate beginning of Genesis. I won't quote it here, because it comes at the end of the book, but I liked it. Religious conservatives might not.
I would give the writing 4 stars and the plot 2 stars, but I just can't bring myself to average it out to 3 stars. I really need to understand why an author thought I needed to read this book, and I just wasn't there. So two stars it is.
You might enjoy this more if you generally "get" magical realism. I can have trouble with it, so maybe that's where the problem lies.
Thanks to HarperCollins for sending me a copy for review via Shelf Awareness.
Read an excerpt.
Find author Sena Jeter Naslund on her website and her blog.
Buy Adam & Eve on
I have an affiliate relationship with IndieBound, Book Depository, and Better World Books and will receive a small commission at no cost to you if you purchase books through links on my site.