---
I have an affiliate relationship with
Bookshop.org
and
Malaprop's Bookstore
in beautiful Asheville, NC. I will earn a small commission at no additional cost to you if you purchase merchandise through links on my site. Read more on my
affiliate page
.
---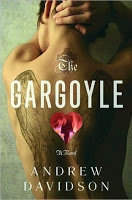 The narrator of The Gargoyle (I'm pretty sure we never learn his name) begins his story with a horrific car crash that leaves him burned beyond recognition. He hasn't lived the best life: he's selfish, addicted to drugs, and a porn star. His beautiful, sexy "friends" take one look at him after the accident and never come back. But one day a woman, Marianne Engel, shows up in his room. He's never met her before, but she knows things about him that he's never told anyone, and she claims that theirs is a love going back seven hundred years.
I'm not entirely sure what I just read. This was a group read this month for one of my groups on GoodReads. I'm dying to go over there and see what others have to say, but I try very hard to write my reviews before reading other reviews or discussions. I want my thoughts to be my own, and I'm afraid that sneaking a peek somewhere else will change my own honest feelings. For what it's worth, here they are.
I really, really, really liked this, but there was a lot going on and there's still a lot left for me to think about. Don't you hate it when you know your review is never going to convey everything that you're thinking and feeling? That's what's going on here.
Marianne is a character that I won't forget anytime soon. She's a gifted carver of gargoyles, a gifted linguist, a gifted storyteller, and a woman with infinite love to give away. She teaches the cynical narrator about the true meaning of love through a series of stories about her friends, and a long narrative about the first time they met and loved. He sees what she means when she lives what she teaches as she cares for this burn victim whom she's never met before and even the staff and other patients at the hospital that is caring for him. Her stories and her actions are beautiful.
You know how everyone seems to think that Jane Austen has the best declarations of love ever written? I believe Andrew Davidson topped her. Yes, it was that good.
There's quite a bit about God and the nature of forgiveness and penance in here too. That was secondary, for me at least, to all the ways that people can find to truly love each other.
I know we aren't supposed to judge books by their covers, but let's face it–we all do. And I just love this cover. It's even better in person than in the picture.
I really think that's the best I can do. Mostly, you just need to read this soon if you're interested in it at all. But if you're a reader who needs a beginning, middle and end with no deviation from the storyline, this probably won't be a book for you. The scenes describing the crash and his initial treatment are fairly graphic, so the squeamish might want to stay away also. But if you don't mind some sort-of-tangents, a meandering plot, and plenty of food for thought, I really think you should pick this up. I mean all of that in the best possible way.