---
I have an affiliate relationship with
Bookshop.org
and
Malaprop's Bookstore
in beautiful Asheville, NC. I will earn a small commission at no additional cost to you if you purchase merchandise through links on my site. Read more on my
affiliate page
.
---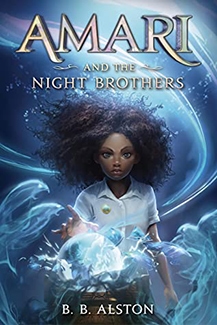 My Synopsis:
Twelve-year-old Amari has struggled since her older brother Quintin went missing six months ago. She's on a scholarship to the same private school he attended, but she never feels like she can live up to his legacy. He was one of those kids who seems to have it all–intelligence, personality, charisma, generosity, you name it. One of the mean rich girls taunts Amari one too many times and Amari decides she isn't going to take it anymore. She loses her scholarship on the last day of the school year. Her mom is so disappointed because she knows this school is Amari's ticket out of "The Wood," the residents' nickname for the housing project where she lives.
But then Amari gets an invitation to a special, highly selective, super-secretive summer camp that Quintin attended when he was her age. The camp trains kids to eventually work in the hidden supernatural world in various capacities: agents in law enforcement, concocting cover stories to explain supernatural events that average humans witness, creating technology to make supernatural lives easier, etc. Amari isn't sure what she's getting herself into but she agrees to attend the camp because it might help her locate Quintin. Every camp attendee has an innate talent magically enhanced to practically become a superpower. When Amari's talent is revealed, she rocks the supernatural world to its core. Can she overcome prejudices on multiple levels to find her brother?
My Review:
Oh my goodness. This was so much fun! But it also had a lot of depth. And just look at that gorgeous cover!
I loved Amari. She's a fighter. Life is hard and unfair for her, largely because of things completely outside her control, but she keeps hanging in there. Cruel adults or mean girls, she meets each challenge the best she can.
She must pass several tests to be accepted as a junior agent at the end of the summer and she starts off at a huge disadvantage. Most of the kids at the camp have grown up in the supernatural world. Generations of their families have served in the Bureau of Supernatural Affairs. But Amari never even dreamed that Atlantis or yetis are real. She buckles down to make up for lost time out of love for her brother. She finally starts to make friends who are outsiders in their own ways. But the discrimination she faces, because of her skin color in our world and because of her talent in the supernatural world, is really starting to wear on her. How can anyone fight against so many widespread, unfounded assumptions? All she wants is a fair chance but almost no one is willing to give her one.
Amari's mama is a bit of a minor character but as a 40-something reader, even one who doesn't have kids, I found her so relatable. She's trying so hard to give her children a way out of The Wood. She works long, hard hours but worries about leaving her kids alone to negative influences in the neighborhood. She's barely scraping by but she's holding her head high and teaching her kids to do the same. My heart broke for her a little when she took out one of those predatory payday loans to get Amari the supplies she needs for summer camp. She's hoping for the best news about Quintin, even while the cops are suggesting that this genuinely good kid must have been messing around with some criminal activity. How hard must it be to keep going when everyone around you is beating you and your family down?
This world is so much fun though! The author seems to be open to any and every creature, legend, myth, super power, fantasy, or insane technology. It could easily come across as too much but it's all handled skillfully and creates a world that any fantasy reader would be eager to visit. There are obviously numerous literary and pop culture influences but it still feels like a fresh new fantasy.
I suspected part of the ending really early on so I'm knocking off half a star. Younger readers may be surprised though.
The narration by Imani Parks was a delight. I seriously thought she was about Amari's age but I just saw that she was born in 1985!
I highly recommend this for readers who want to explore a new fantasy world with a strong young protagonist. Be sure to get the audiobook if you're a fan of those! I'll be eagerly awaiting the rest of the series.
Recommended by:
My thanks to Libro.fm for offering this title for free as part of Independent Bookstore Day.
Similar Books:
If you liked Amari and the Night Brothers, you might also like my reviews of
Reading Challenge:
Purchase:
Buy Amari and the Night Brothers from Malaprop's Bookstore in beautiful Asheville, NC or
---