---
I have an affiliate relationship with
Bookshop.org
and
Malaprop's Bookstore
in beautiful Asheville, NC. I will earn a small commission at no additional cost to you if you purchase merchandise through links on my site. Read more on my
affiliate page
.
---
Percy Jackson and the Olympians: The Lightning Thief hits theaters today. I have to admit that I'm pretty excited to see it. I loved the book, the cast is amazing, and the trailer is exciting. I just wish that they had found an actor who is actually Percy's age to play Percy. He's what–12 in the book? Logan Lerman is seventeen. His voice has already broken, for crying out loud! Still, I liked Lerman in 3:10 to Yuma, and I think he'll do a good job with the part. I just don't really see him as Percy at this point. Maybe he'll change my mind. Oh, and that amazing cast makes me nervous too. It seems like a movie with too many famous names just never lives up to expectations. (I'm looking at you, The Royal Tenenbaums, my first vote for Worst Movie Ever)
Anyway, without further ado, here is my review of the book.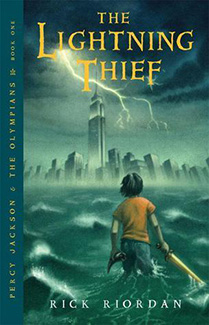 Percy Jackson tries to be good, but circumstances just don't allow it. Trouble always seems to find him. Let's not talk about what happens to his math teacher his sixth grade year…. At the end of sixth grade, Percy and his mom take off for a trip to the beach. Late in the night, it sounds like a hurricane blows up and they're running for their lives. Percy winds up at Half-Blood Hill, a summer camp for the children of…Greek gods? An evil plot is afoot and Percy needs to clear his name and unravel the mystery with the help of his two friends, Annabeth and Grover.
I loved this! I've always enjoyed mythology and this was an original take on the old myths for children. But don't think it's only for children–adults will enjoy it too. Percy, Annabeth and Grover are fantastic, smart, fun characters. I loved reading about how the toga-wearing Greek gods from my school days have morphed to fit into the twenty-first century. (Is anyone really surprised that Ares rides a chopper?) The mystery kept me guessing and the action was just right.
I highly recommend this for kids and adults who aren't afraid to read children's books. I'll be reading the rest of the series.
Have you read the book? Will you/have you seen the movie? What did you think of either?