---
I have an affiliate relationship with
Bookshop.org
and
Malaprop's Bookstore
in beautiful Asheville, NC. I will earn a small commission at no additional cost to you if you purchase merchandise through links on my site. Read more on my
affiliate page
.
---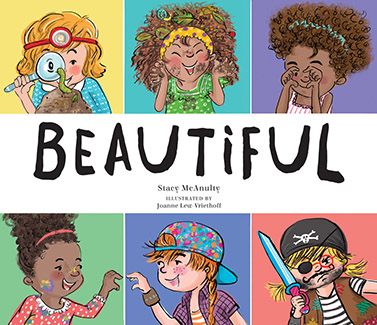 My Synopsis:
Stacy McAnulty celebrates beautiful girls everywhere in this picture book. Whether she's recognized for her intelligence, curiosity, adventurous spirit, imagination, kindness, or some other trait, every girl is beautiful.
My Review:
Oh my goodness! I loved this book!
I love the way the illustrations subvert the text. If I were only reading the words, I would expect a stereotypical princess playing tea with her dolls (I love those little girls but that doesn't reflect every girl's interests). For example,
"Beautiful girls move gracefully. And light up every room."
These sentences are accompanied by illustrations of female athletes (some in wheelchairs) and girls camping in their tents while reading their books by lantern light or star-gazing.
The illustrator, Joanne Lew-Vriethoff, tried to include a diverse cast and did an amazing job. She shows girls in wheelchairs, Black girls, Asian girls, girls with straight hair, and girls with unruly curly hair. I can't express how much I loved these curly girls! As a curly girl myself, I know that our hair is never tamed and seems to always have twigs or grass in it when we're young. Instead of teaching us to straighten it, teach us to embrace it!
I highly, highly recommend this book for young and even not-so-young girls. We're all beautiful in our own ways and this adorable picture books reinforces that fact so well.
"It's all about
your clothes,
your hair,
your style,
WHO YOU ARE"
Recommended by:
A Mighty Girl Facebook page (If you like to learn about women's achievements and issues, and/or you're raising a Mighty Girl yourself, I can't recommend this page enough)
Similar Books:
If you liked Beautiful, you might also like my reviews of
Purchase:
Buy Beautiful from Malaprop's Bookstore in beautiful Asheville, NC or
---