---
I have an affiliate relationship with
Bookshop.org
and
Malaprop's Bookstore
in beautiful Asheville, NC. I will earn a small commission at no additional cost to you if you purchase merchandise through links on my site. Read more on my
affiliate page
.
---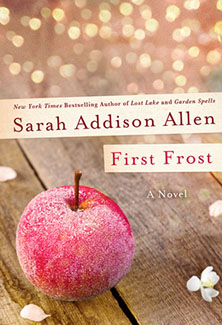 My Synopsis:
The mysterious Waverley apple tree is currently dormant, waiting for the first frost before bursting into bloom. This time of year always causes the Waverley women to get restless. Sydney's hair is turning red as she yearns to give Henry a son, Claire is following dollar signs but not her heart as she launches Waverley Candies, and Bay is unhappy because she's found the boy her Waverley magic tells her that she's supposed to be with but he doesn't even know she exists.
My Review:
It's been so long since I read Garden Spells that I felt just a bit lost as I started this. The outlines settled in quickly for me though.
My favorite chapters were the ones about Bay. That nameless longing for something, knowing it's out there, just not being able to reach it–I think we all felt something like this as teenagers. Sarah Addison Allen described it perfectly. I also love the way that Bay fully embraces her Waverley nature. She is who she is and that's it. I admire that self-confidence and self-knowledge.
While I enjoyed checking in with Sydney and Claire, I felt like I knew where they were going to end up almost as soon as the book started. There is one wild card thrown in but that storyline resolved so easily that it felt like a lot of buildup for a little payoff. I did like the new character these chapters introduced though. Maybe he'll be in a spin off novel? It was nice to check in with the sisters but I wish their stories had been a bit meatier. I feel like I'll forget most of this book within a week.
And I think that's all I have to say. I definitely love and recommend any of Sarah Addison Allen's books, but I don't feel that this is one of her strongest ones. Read it if you've read and enjoyed Garden Spells.
Book Launch:
Read my description of attending the First Frost book launch.
Similar Books:
If you liked First Frost, you might also like my reviews of
Reading Challenges
Purchase:
Buy First Frost from Malaprop's Bookstore in beautiful Asheville, NC
---