---
I have an affiliate relationship with
Bookshop.org
and
Malaprop's Bookstore
in beautiful Asheville, NC. I will earn a small commission at no additional cost to you if you purchase merchandise through links on my site. Read more on my
affiliate page
.
---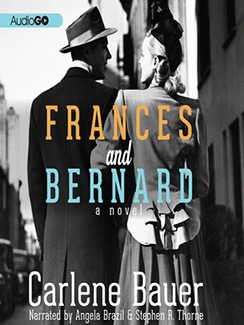 My Synopsis:
Frances Reardon and Bernard Eliot meet by chance at a writers' workshop. They have one memorable lunch there and agree to begin a correspondence. They write each other their deepest thoughts on faith and their personal joys and trials. They occasionally write other friends about the events they experience together.
My Review:
This is another desperate end-of-year reading challenge grab that paid off. I'd never even heard of this book but I started trolling through an "Epistolary novel" list, comparing it to what was available as an audio download from my library, and landed on this.
I loved it.
I don't know exactly what my reaction would have been to the novel in print, but I fell in love with both these characters on audio. Angela Brazil reads the female parts and Stephen R. Thorne obviously narrates the male voices. I shouldn't even write reads or narrates; they both perform this novel. I felt like Frances and Bernard were old friends. Their personalities leaped off the page for me. Or whatever the equivalent would be with an audio book.
I have a tendency to spell out every little detail of the books I'm reading to my husband, whether he wants to hear them or not. I try, mostly successfully, to curtail this but when a book excites me, I just can't help it; out it all comes. I think my husband got daily updates as I listened to this one. We'd be doing something completely unrelated and out of the blue I'd announce, "I'm really worried about Bernard."
"Who?"
"Bernard. You know. From my book."
"Oh."
"Things aren't looking good. I'm worried about the happily ever after."
"That's nice, dear."
He never promised to actually listen to all my bookish rattling, but at least he lets me get it out of my system!
At first, Frances and Bernard came dangerously close to seeming pretentious to me. They begin their correspondence with their thoughts on religion. I don't really discuss religion at all. The thought of sharing my deepest feelings with someone, much less a near-stranger, just shrivels up my insides. These two carry it off well though, and before things got too caught up in faith and spirituality, they had moved on to other topics. Faith did always remain a touchstone of their correspondence though.
Their letters were hilarious, intelligent, heart-felt, insightful, sarcastic, touching, heart-breaking, and caring. I truly felt like I went through years of the lives of real people.
I highly recommend this book, especially on audio. The emotion may wring you out but you'll be so glad you got to meet Frances and Bernard.
Similar Books:
If you liked Frances and Bernard, you might also like my reviews of
Reading Challenge: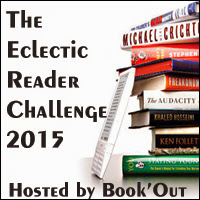 Purchase:
Buy Frances and Bernard from Malaprop's Bookstore in beautiful Asheville, NC or
---