---
I have an affiliate relationship with
Bookshop.org
and
Malaprop's Bookstore
in beautiful Asheville, NC. I will earn a small commission at no additional cost to you if you purchase merchandise through links on my site. Read more on my
affiliate page
.
---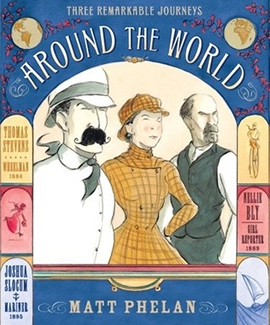 Title: Around the World: Three Remarkable Journeys
Author: Matt Phelan
Genre: Adventure, Travel, Biography, Graphic Novel, History
Audience: Middle Grade
Format: Hardcover
My Synopsis:
Jules Vernes's classic tale of adventure, Around the World in 80 Days, inspired many intrepid explorers to undertake the same daring feat. Matt Phelan briefly shares the stories of three of those wanderers: Thomas Stevens, a former miner who accomplished the act on a big-wheel bicycle in 1884; Nelly Bly, intrepid girl reporter, who attempted to circumnavigate the world in 74 days; and Joshua Slocum, a retired sea captain who ventured out alone on his sailboat in 1895.
My Review:
This book is a taste of these three journeys and made me eager to learn more about the featured explorers.
The artwork is beautifully done in a style that I (most definitely not an artist) can only describe as a cross between line drawings and watercolors. The predominant colors of each section reflect (or set?) the mood. Warm tones illustrate Nellie Bly's story, which adds to the excitement. Will she make her deadline despite inevitable delays? Blue is the primary color of Joshua Slocum's tale because of both his watery surroundings and his more introspective journey. Thomas Stevens is a mix of colors: somber in the mines where his story begins and happier as he finds his pace on his trip.
Of the three personalities, I was most drawn to Captain Slocum. He reflects on the great joys and great losses in his life during his journey. He's also a reader who made room for two full bookshelves on his 36-foot boat. I like his priorities.
Nellie's journey was fairly stressful for me! I know almost nothing about her so I worried about her deadline. She saw very little of the world other than trains and boats. I hope she traveled again, taking her time and enjoying the journey. I was impossibly proud of her for undertaking such a trip at a time when women could barely cross town alone, much less travel significant distances.
Thomas Stevens is my least favorite of the three wanderers but at the same time, the one whose book I'm most tempted to seek out. He wants a way out of the mines where he's working and decides that a cross-country bicycle ride will generate the publicity he needs to change his life. Once he finishes that task, it's only natural for him to keep going around the world. I want to know more about the places he visited and the people he met. The author touches on both but in 50 pages of a graphic novel, he can't share a lot of detail.
Around the World is marketed for middle grade readers but young adults and adults will enjoy reading about these explorers as well. Reluctant readers who enjoy this book should be inspired to seek out more information about the subjects in other books. Highly recommended for those who like to travel, whether in fact or in imagination.
Similar Books:
If you liked Around the World: Three Remarkable Journeys, you might also like my reviews of
Purchase:
Buy Around the World: Three Remarkable Journeys from Malaprop's Bookstore in Asheville, NC.
---