---
I have an affiliate relationship with
Bookshop.org
and
Malaprop's Bookstore
in beautiful Asheville, NC. I will earn a small commission at no additional cost to you if you purchase merchandise through links on my site. Read more on my
affiliate page
.
---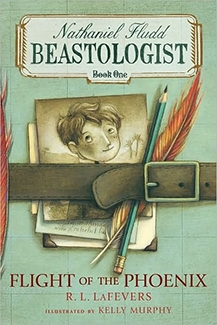 My Synopsis:
Young Nathaniel's parents are world travelers. When they set out on their most recent journey, they told him he was a bit too young to join them and they would send for him when he turned eight. He's ten now and still hasn't heard from them.
But then the family lawyer summons Nathaniel and his governess to his office. His parents' airship went down somewhere in the Arctic and there were very few survivors. His parents weren't among them. Nathaniel's Aunt Phil, whom he's never even met, has agreed to take him in.
But life with Aunt Phil might be more interesting than Nathaniel expects. Her pet dodo fills him in on some of the family secrets. The Fludds are a family of beastologists, scientists dedicated to caring for fantastic animals. Nathaniel and Aunt Phil set out on their second day together to supervise the birth of a new phoenix. But their plans go awry and Nathaniel is left in charge of the event. Can he see it through successfully?
My Review:
What a cute little book! I read it in about an hour but I enjoyed myself immensely.
Nathaniel is a fairly complex character. He's a timid little thing but Aunt Phil pushes him to face his fears. He has a kind heart that leads him to befriend creatures that Aunt Phil dismisses as pests. Most living things will respond with kindness when treated with kindness so he makes new friends this way. He has a big sense of responsibility that helps see him through some tight spots. He's an artist and seems happiest when he's drawing the world around him. I expected him to be a bit of a pushover but when Cornelius the dodo shows a bullying tendency, Nathaniel quietly stands up to him. Their interactions were fairly brief but made me smile.
Events hint at larger mysteries but don't address them yet. Aunt Phil is surprised that Nathaniel hasn't even received any letters from his parents in the three years they've been gone. What is going on there?
I overlooked the fact that the book is illustrated when I downloaded it to my Kindle Paperwhite. I don't like the way my Paperwhite renders images (They're usually tiny, dark, and grainy) so I usually check physical copies of illustrated books out from the library instead. Luckily, Kelly Murphy's black-and-white drawings rendered beautifully. Nathaniel's drawings are a bit childlike, as should be expected, but the other book illustrations are beautiful and charming.
This was a fun little adventure for the young and the young-at-heart. It should appeal to readers who relate to Hagrid and Newt Scamander in their love for beasts of the fantastic variety.
Recommended by:
Miss Eliza at Strange & Random Happenstance
Similar Books:
If you liked Flight of the Phoenix, you might also like my reviews of
Purchase:
Buy Flight of the Phoenix from Malaprop's Bookstore in beautiful Asheville, NC or
---