---
I have an affiliate relationship with
Bookshop.org
and
Malaprop's Bookstore
in beautiful Asheville, NC. I will earn a small commission at no additional cost to you if you purchase merchandise through links on my site. Read more on my
affiliate page
.
---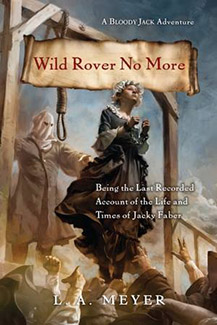 My Synopsis:
Jacky Faber's written adventures come to an end when she's accused of treason and flees down the New England coast.
My Review:
I'm still so upset that the last book ended the way it did. I tried to put that behind me, as Jacky herself does, but I'm a world-class grudge-holder. I was mostly able to enjoy this book for itself but I'm still rating it 3 stars instead of the 4 I would probably have given it if that nonsense from book 11 hadn't happened.
After twelve books, there's not much more to say. Jacky is Jacky; may she always be true to herself. I've laughed and cried through her adventures, hated her enemies, and (mostly) loved her friends. She's one-of-a-kind and I'm saddened to know that this was L. A. Meyer's last book before he passed away.
I will note that there's a scene near the end that might be upsetting to sensitive readers.
Katherine Kellgren's narration was, as always, an absolute delight.
This nicely wraps up a lot of loose ends and revisits characters whom we haven't heard from in a while. It's a fitting end to a series that has brought me a lot of joy.
Similar Books:
If you liked Wild Rover No More, you might also like my reviews of
Bloody Jack (Bloody Jack #1) by L.A. Meyer
The Mysterious Howling (The Incorrigible Children of Ashton Place #1) by Maryrose Wood, read by Katherine Kellgren
Goldie Vance (Goldie Vance #1) by Hope Larson, illustrated by Brittney Williams
Purchase:
Buy Wild Rover No More: Being the Last Recorded Account of the Life & Times of Jacky Faber from Malaprop's Bookstore in beautiful Asheville, NC
---