---
I have an affiliate relationship with
Bookshop.org
and
Malaprop's Bookstore
in beautiful Asheville, NC. I will earn a small commission at no additional cost to you if you purchase merchandise through links on my site. Read more on my
affiliate page
.
---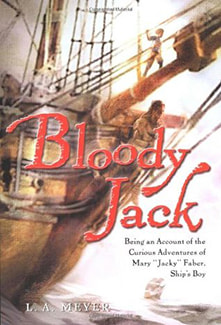 Mary "Jacky" Faber is an orphan in eighteenth-century London. She actually came from a good family, but when both her parents died of illness, there was nowhere for Jacky to go but the streets. Luckily, she made her way into one of the gangs of street orphans, groups of children who watch out for each other and share whatever they manage to find or steal. Jacky eventually decides she needs to do something to improve her life before she ends up dead. She disguises herself as a boy and starts wandering London on her own. She immediately realizes how much easier life is for boys, even orphan boys. She soon finds herself at the docks, where she lands a position as ship's boy in the Royal Navy. Adventures follow, with Jacky worried about someone finding out her secret the whole time.
I loved Jacky! She is such a strong, true female character! I was thrilled to find her in a YA/MG book. She's not unrealistically tough either. She has her fears, and when she gets scared she starts crying and screeching like a banshee. She admits that she's not very brave–except that she mostly is. She has her own fears, as we all do, but she does things that most children, or adults for that matter, would be terrified to do. When she finds herself in a tough spot, she doesn't just give up; she solves her problems the best way she can, and she's very smart about it. Whether it's a matter of survival or bullying, nothing fazes Jacky for long.
Jacky writes her own story, and the beginning is written in a very–cockney?–way. I thought it was pretty fun and didn't have a problem understanding it at all. If you find yourself reading this and you're put off by it, just hang in there, because her English does get better as the book goes on.
The pace of the book is excellent. Jacky's on a ship almost the entire time, and there is potential for such a small location and cast of characters to get old. Meyer handled it well. There are all kinds of problems that can arise even on board ship, and Jacky smacks into all of them. Of course the ship is hunting pirates in different locations and pulling into different ports, so Jacky finds all kinds of adventures that way too.
I highly recommend this for girls who like adventure stories. I had a blast reading about Jacky and fully intend to continue on with the series soon.