---
I have an affiliate relationship with
Bookshop.org
and
Malaprop's Bookstore
in beautiful Asheville, NC. I will earn a small commission at no additional cost to you if you purchase merchandise through links on my site. Read more on my
affiliate page
.
---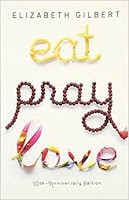 Elizabeth Gilbert is an emotional train wreck. She's going through a tortuous divorce and her on-again-off-again relationship with her new boyfriend is just killing her. She realizes that she needs a change in her life if she is going to save it. So she sets off on a year-long journey through Italy, India, and Indonesia to learn how to live "the good life" in different ways. Italy is about pleasure, India is about prayer, and Indonesia (Bali) is about finding balance between the two.
This could have turned into a great big pity-fest but it didn't. Gilbert realizes exactly how blessed she is to have the time and money to undertake this physical and spiritual journey. She gives us the down-and-dirty on exactly how low she had sunk and exactly how bad she felt sometimes, but I didn't feel like she was ever asking for pity.
Oh, these settings and the people she meets! By the time she got through eating her way through Italy, I felt like I needed to go shopping for a larger pants size with her! Just read this description of Lucca. "Sausages of every imaginable size, color and derivation are stuffed like ladies' legs into provocative stockings, swinging from the ceilings of the butcher shops. Lusty buttocks of hams hang in the windows, beckoning like Amsterdam's high-end hookers. The chickens look so plump and contented even in death that you imagine they offered themselves up for sacrifice proudly, after competing among themselves in life to see who could become the moistest and the fattest. But it's not just the meat that's wonderful in Lucca; it's the chestnuts, the peaches, the tumbling displays of figs, dear God, the figs…" Hungry yet? I love what she has to say about the pursuit of something just because it gives us pleasure, whether it's learning a new language, seeking out beauty, or simply buying pretty underwear because you want to.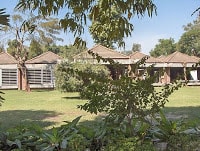 Elizabeth does not share the name of her ashram out of respect, but this is Sabarmati Ashram in
Ahmedabad, India. Photo taken by Nichalp and shared on Wikimedia Commons.
India was the weak point of the book for me. Elizabeth stays in an ashram practicing meditation and prayer. Richard from Texas is a larger-than-life guy who adds some humor and a dash of reality, but mostly this section was her reflections on–spirituality? That's probably the closest word, because she's not focused on one religion. It's also about the walls she finds on her spiritual path and her breakthroughs. There are people who will love that kind of thing, but I'm not among them. I applaud her journey, but that's not something I typically want to read about.
Then she got to the island of Bali in Indonesia and she started to put it all together. Her teacher there, Ketut (one of only four names they really use in Bali) is an old medicine man whose favorite meditation technique is to sit still and smile. "To meditate, only you must smile. Smile with face, smile with mind, and good energy will come to you and clean away dirty energy. Even smile in your liver." That's a meditation I think I could handle! She meets some wonderful people on Bali. There's Yudhi, a brilliant musician who was arrested and deported from New York after September 11 simply because he's Indonesian, even though he's married to an American woman and not even Islamic. There's Wayan, a female healer who found the courage to leave her abusive husband in family-centric Bali before he beat her to death. And then there's Felipe, the Brazilian expat who's suffered through a nasty divorce himself. They all come together to help Liz finish this year of journeying that I can only imagine is the year that has defined her life.
I'm not usually a big fan on non-fiction, but Gilbert's style is more that of a story-teller than of a facts-presenter. She works in the background and the history and the philosophy in just the perfect way to keep me reading. I recommend this for those who can see the value of this kind of journey and who want to live it vicariously.