---
I have an affiliate relationship with
Bookshop.org
and
Malaprop's Bookstore
in beautiful Asheville, NC. I will earn a small commission at no additional cost to you if you purchase merchandise through links on my site. Read more on my
affiliate page
.
---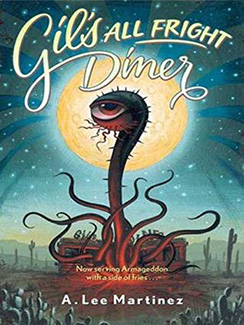 Title: Gil's All Fright Diner
Author: A. Lee Martinez
Narrator: Fred Berman
Genre: Horror, Humor, Paranormal
Audience: Adult
Format: Audiobook
My Synopsis:
Duke and Earl are speeding through the deep Texas night when Duke decides he's hungry and stops at Gil's All Night Diner. While he's eating, zombies come lurching into the restaurant, intent on their own late-night snack. Lorraine, the owner, is prepared for this regular occurrence and hauls out her shotgun but then realizes she's out of ammo. Earl tries to step in but he's quickly overwhelmed. Duke finishes up his chili, transforms into a werewolf, and quickly puts an end to that night's invasion. Earl, a vampire, climbs out from under the no-longer-walking dead and Lorraine offers them a place to stay if they'll help her get to the bottom of the unholy happenings that are centered on the diner.
My Review:
This book cracked me up! My best description is that it's a version of Tucker and Dale vs Evil if Tucker was a werewolf and Dale was a vampire. I can't watch many horror movies but that one made me laugh, just like this book did.
Earl and Duke aren't quite as hapless as Tucker and Dale since they're very aware of their own powers and limitations and know a lot about other paranormal beings. When they meet anything they can't handle, they just call their buddy Hector, a warlock up in El Paso, and he sets them straight.
I think Martinez throws every horror trope known to man into this book, to an over-the-top, hilarious effect! Zombie cows; a nubile jailbait dark priestess; a horny teenage henchman; old, tentacled gods; and bloodstains that can't be washed away all make an appearance.
Fred Berman's narration is just as over-the-top as the book so he was a perfect fit. He reminded me a bit at times of Michael Rooker's character in the Guardians of the Galaxy movies.
If you're looking for a horror read that deliberately makes you laugh, this is the novel for you. I especially recommend the audiobook.
Similar Books:
If you liked Gil's All Fright Diner, you might also like my reviews of
Purchase:
Buy Gil's All Fright Diner from Malaprop's Bookstore in Asheville, NC.
I have an affiliate relationship with Malaprop's Bookstore/Cafe in beautiful Asheville, NC. I will earn a small commission at no additional cost to you if you purchase merchandise through links on my site.