---
I have an affiliate relationship with
Bookshop.org
and
Malaprop's Bookstore
in beautiful Asheville, NC. I will earn a small commission at no additional cost to you if you purchase merchandise through links on my site. Read more on my
affiliate page
.
---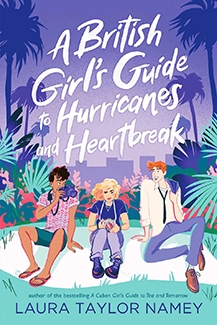 My Synopsis:
Flora Maxwell's mom recently passed away and Flora is not handling her grief well. She's pushing everyone away and destroying relationships. Deadlines are approaching and she has no idea what she wants to study in college. She's been asked to give a speech about her mom and the thought terrifies her. The only thing that brings her any peace is her camera.
After making a particularly hurtful confession to her family, Flora runs away from Winchester, England to Miami, Florida, to stay with her friend Lila's family for a while. In Miami, she starts to get some perspective on her losses and her self-destructive behaviors. She also meets handsome Baz Marín, who becomes her photography mentor. Can Flora, who describes herself as a hurricane, learn to trust others–and herself?
My Review:
Thank you to the publicist for providing me with an early copy of this book via Netgalley in exchange for my honest review.
A British Girl's Guide to Hurricanes and Heartbreak is a spin-off of A Cuban Girl's Guide to Tea and Tomorrow (link to my review). You could probably read A British Girl's Guide first if you really want to and only encounter minor spoilers but I recommend reading them in order. Knowing the background of some characters who take a more minor role in this follow-up adds depth to the story.
Now, hang with me for a minute here. Flora is a difficult character. I struggled a bit with her, to be honest. She's really prickly and she can get a little too self absorbed at times. I understand that she's suffered an unimaginable loss but watching her repeatedly push away people who genuinely care for her got to be frustrating for me. I almost rated the book three stars because of her and because I am such a character-driven reader.
But I stepped back and thought about it. We all know people like Flora. She rang very true. But Flora knows she has some serious issues she needs to work through. She starts to engage in some self-reflection, let others in, and seek help. And that's what redeems her in my eyes.
There's a maybe/maybe not love triangle which is not my favorite trope. But it sets up an opportunity for some earnest conversations among characters about self-respect and what they want and expect from a partner. It's another opportunity for character growth and I embraced it.
My husband is Cuban and largely grew up in Miami. His parents moved to Naples at about the time that I came into the picture so I haven't spent a lot of time in Miami. But it was still a lot of fun to read about the locations that I am familiar with. The heat and humidity ooze out of the pages. I could almost taste the food. One scene takes place at a photo shoot in Vizcaya. Holy smokes. I could see every move of that scene coming to life. Somehow it was steamy in more than one sense of the word even though it was also perfectly innocent. The romantic tension was palpable. That scene was perfection.
Read this one if you like complicated characters and a good helping of romance.
Similar Books:
If you liked A British Girl's Guide to Hurricanes and Heartbreak, you might also like my reviews of
Purchase:
Buy A British Girl's Guide to Hurricanes and Heartbreak from Malaprop's Bookstore in beautiful Asheville, NC or
---