---
I have an affiliate relationship with
Bookshop.org
and
Malaprop's Bookstore
in beautiful Asheville, NC. I will earn a small commission at no additional cost to you if you purchase merchandise through links on my site. Read more on my
affiliate page
.
---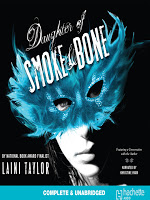 Karou is a blue-haired high school art student, living a double life in Prague. By day she deals with her jerk of an ex-boyfriend and hangs out with her best friend Zuzana. By evening, or whenever duty calls, she does odd jobs for her secret family, a group that she calls the Chimera. They seem to exist only in their own little antechamber, accessed from portals all over our world, but not a part of it. They are all part beast and part human. Brimstone is her father figure. Karou doesn't know how she came to be with the Chimera and she doesn't remember any other family.
Brimstone incessantly collects teeth from around the world. He trades wishes big and small for them. He often sends Karou out to collect for him. It's not an entirely easy job, so she has learned to watch her own back.
And then one day, the angels come.
What a crap ending! I have learned to hate cliffhangers! Argh! Seriously, if you're going to write a story for me, please make it a story, not just a fragment!
The fact that I care should tell you that I really liked this otherwise. Hush, Hush left such a bad taste in my mouth that I had pretty much sworn off angel books. Seriously. But then one day I was browsing my library's digital catalog looking for my next audio book, and this gorgeous cover caught my eye. I'd heard good things about it in the book blog world. I went tearing over to GoodReads to see what my friends thought. Four- and five stars almost across the board! Okay, you guys haven't steered me wrong before, so I decided to break the angel ban and give this a try. I'm so glad I did! I just wish the second book were published already.
I really liked Karou. She's streetwise but she's a talented artist. She's trying to be normal but she has this crazy other life. She's almost too good to be true, but she's been hurt by a jerk. She's a smartass with a great sense of humor. She's crazily loyal. What's not to love?
It took me a very long time to warm up to Akiva. He enters the story in such a bad way that I had to get through his whole back story and understand where he was coming from before I could make up my mind about him. I know that he's beautiful and all, but there needs to be a spark of compassion in there somewhere. It's hard to find that in Akiva.
Speaking of backstory, the pacing of the book was a little off, but that had more to do with me than the author. I really wanted to get back to Karou. I didn't trust Akiva yet, so I didn't want to go digging around in his past. And it's not just a quick trip; it felt like fully half the book dealt with his past. I finally did let go of Karou and start to enjoy the story of Akiva's world and then everything came together beautifully. I had suspected the twist for a while, but I'm pretty sure I was supposed to. It was still satisfying to see how it played out though.
I got lost in these worlds. I'm ready to go visit Prague and wander the tiny alleyways. I want to know if there really is a cool little cafe called Poison to hang out in. I want to see Zuzana in her final class project. I want to see the Chimera. The language was beautiful and I was able to picture everything so completely that I just want to be able to compare my imaginings with the real thing, at least where I can.
Khristine Hvam did an amazing job with the narration. I don't remember her doing anything too over the top with voices, but she captured Karou's emotions perfectly. Angry, wistful, resentful, desperate, disgusted, hurt, I could hear it all in her voice.
I highly recommend this, but if you read it before the second book is published, don't say I didn't warn you.
Find author Laini Taylor on her blog and Twitter.
Check out the Daughter of Smoke and Bone website.
Find other reviews at The Allure of Books, Book Rat, and Alison's Book Marks.
Buy Daughter of Smoke and Bone at
I have an affiliate relationship with Malaprop's, my local independent bookstore located in beautiful downtown Asheville, NC; and Better World Books. I will receive a small commission at no cost to you if you purchase books through links on my site.