---
I have an affiliate relationship with
Bookshop.org
and
Malaprop's Bookstore
in beautiful Asheville, NC. I will earn a small commission at no additional cost to you if you purchase merchandise through links on my site. Read more on my
affiliate page
.
---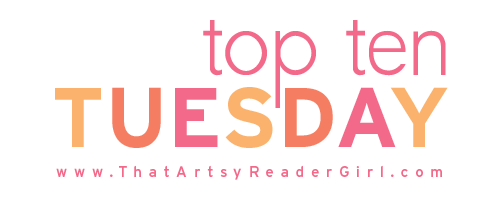 This week, That Artsy Reader Girl prompts us to share "Book Covers with Fall Colors/Vibes." I chose books that I've either read or that are on my TBR. I also tried to avoid horror covers (I have plenty of those) although I did veer into some Gothic covers. Here's what I found for my top ten fall book covers.
My posts and reviews may contain affiliate links. If you purchase merchandise through these links, I will earn a small commission at no additional cost to you. You can read details on my affiliate page.
First Frost by Sarah Addison Allen–That frosty apple shouts "autumn" to me. If you haven't read Sarah Addison Allen, you should fix that now.
Black Rabbit Hall by Eve Chase, read by Nathalie Buscombe, Katie Scarfe, and Cassandra Campbell–The Gothic vibes coming off this cover are irresistible. I listened to this during my blogging break and don't remember much about it.
The Immortalists by Chloe Benjamin, read by Maggie Hoffman–I don't know how one tree has all the colors of fall but this one most definitely does. I found this book to be so sad.
Big Cherry Holler by Adriana Trigiani–I'm a Blue Ridge Mountain girl, which is exactly where this series is primarily set. This cover feels just like early fall in the mountains of home to me.
The Cider House Rules by John Irving–I'm not a huge fan of Irving. I don't dislike his works by any means but I don't love him the way most readers seem to. Still, this might be my favorite of his books so far, possibly because I read it "on location" while my husband was working in Maine. I love the blazing red tree and apples on this cover.
A Night in the Lonesome October by Roger Zelazny–One of my best friends loves this book and bought it for me a few years ago. It takes all the tropes of classic horror novels (as pictured on the cover) and combines them into something unexpected and–dare I say it?–quirky rather than scary.
Olive, Again by Elizabeth Strout–I haven't read this sequel to Olive Kitteridge yet, but I was surprised by how much I liked the first book. Those autumn leaves blowing in the wind caught my eye for this week's topic.
The Nature Fix by Florence Williams–This is another choice from my TBR list. I think it's apparent that turning leaves come to my mind when I think of fall!
The Charmed Children of Rookskill Castle by Janet Fox, read by Fiona Hardingham–Another book I listened to on my blogging break and remember very little about. I primarily recall that the word chatelaine was overused. Still, the moonlight, that creepy castle, and those birds (or are they bats?) circling the turrets all feel like an unsettled October night, when you know in your bones that unexplained things are lurking in the shadows.
The Vengeance of Mothers by Jim Fergus, read by Laura Hicks and Erik Steele–This is a less-obvious choice but the brown grass and the angle of the light feel like early fall to me. I read this during my blogging break too but remember that I did enjoy it as a sequel to One Thousand White Women.
That's my list! Have you read any of these? Which covers did/would you choose? Link up every Tuesday at That Artsy Reader Girl!
---