---
I have an affiliate relationship with
Bookshop.org
and
Malaprop's Bookstore
in beautiful Asheville, NC. I will earn a small commission at no additional cost to you if you purchase merchandise through links on my site. Read more on my
affiliate page
.
---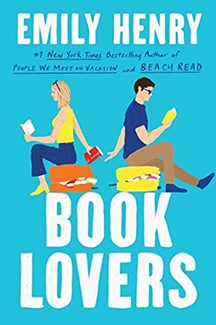 One summer. Two rivals. A plot twist they didn't see coming….

Nora Stephens' life is books—she's read them all—and she is not that type of heroine. Not the plucky one, not the laidback dream girl, and especially not the sweetheart. In fact, the only people Nora is a heroine for are her clients, for whom she lands enormous deals as a cutthroat literary agent, and her beloved little sister Libby.

Which is why she agrees to go to Sunshine Falls, North Carolina for the month of August when Libby begs her for a sisters' trip away—with visions of a small-town transformation for Nora, who she's convinced needs to become the heroine in her own story. But instead of picnics in meadows, or run-ins with a handsome country doctor or bulging-forearmed bartender, Nora keeps bumping into Charlie Lastra, a bookish brooding editor from back in the city. It would be a meet-cute if not for the fact that they've met many times and it's never been cute.

If Nora knows she's not an ideal heroine, Charlie knows he's nobody's hero, but as they are thrown together again and again—in a series of coincidences no editor worth their salt would allow—what they discover might just unravel the carefully crafted stories they've written about themselves.
My Review:
I usually like to read "fluffy" books when the weather is warm but somehow I've been reading some pretty heavy titles lately. I asked for recommendations and Shelleyrae at Book'd Out suggested Book Lovers. It was just what I needed.
I'm not a huge romance reader, but I do enjoy the occasional romantic comedy and this definitely fits that mold. The dialogue between Charlie and Nora was hilarious! Their chemistry was believable, as were their obstacles. I really dislike characters who act in completely unbelievable ways to further a plot point but that pitfall was missing here, thank goodness.
There are some sexytimes and I would give those scenes a heavy PG-13 or lightweight R rating. Not terribly graphic but you know what's going on.
Part of the appeal of the synopsis for me is that the book largely takes place in Sunshine Falls, a fictional town in North Carolina. I was even more pleased to see that Sunshine Falls is supposed to be near Asheville, my hometown. The descriptions of the cold creeks, the lightning bugs at dusk, the small town neighbors, and even the humidity felt perfect.
I won't get on my soapbox (for long) but there's a throwaway line in the book saying that Manhattan Destitute is North Carolina Rich. It's true but all those high Manhattan, New York, California, etc. salaries moving in are leaving residents of North Carolina and other places across the South and Midwest destitute ourselves. We can't compete in our local housing markets anymore. I don't know what the answer is and I'm not saying that no one should move in, but I truly would have appreciated some sort of very brief discussion between characters to at least acknowledge the issue.
But back to the book itself! Book Lovers was an absolute delight to read and I inhaled it in a couple of sittings. I recommend it if you're in the mood for a sparkling romantic comedy.
Recommended by:
Shelleyrae at Book'd Out
Similar Books:
If you liked Book Lovers, you might also like my reviews of
Austenland by Shannon Hale, read by Katherine Kellgren
Bet Me by Jennifer Crusie, read by Deanna Hurst
Spring Fever by Mary Kay Andrews, read by Kathleen McInerney
Purchase:
Buy Book Lovers from Malaprop's Bookstore in beautiful Asheville, NC or
---