---
I have an affiliate relationship with
Bookshop.org
and
Malaprop's Bookstore
in beautiful Asheville, NC. I will earn a small commission at no additional cost to you if you purchase merchandise through links on my site. Read more on my
affiliate page
.
---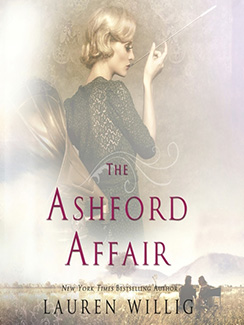 Synopsis:
In 1999, Clemmie is working around the clock, literally sleeping under desk some nights, to make partner at a powerful New York law firm. When she manages to make it across town to celebrate her grandmother's 99th birthday, she is shocked to see how much Granny Addie's health has declined.
Back in the 1910s and 1920s, Addie was orphaned at the age of six. Her uncle takes her in and raises her with his daughters. Addie and Bea, the daughter closest to her age, immediately become inseparable. As they grow, Bea blossoms into a beauty who can have her pick of available men. Addie meets a troubled WWI vet, Frederick, and they bond over poetry readings and lectures.
My Review:
I am a surprisingly big fan of Ms. Willig's Pink Carnation series for someone who doesn't consider herself a romance reader. But the witty banter, intrigue, and Napoleonic settings sucked me right in. I inhaled that entire 12-book series and wished for more.
The author's newer books look more serious to me so I've avoided them until now. But I was in the mood for a fun, flirty book and decided to go ahead and give one of them a try. I was correct; this one is more serious.
In dual timeline books, I almost always strongly prefer one timeline over the other. That was the case in the Pink Carnation books and that was the case here. I didn't feel invested in the modern timeline's characters and mostly just thought that Clemmie had a lot of nerve to get angry with everyone else in the family for not keeping her in the loop about her grandmother's health when, by her own admission, she never visited and never called.
Addie, Clemmie's grandmother, had a lot more going on in her youth. Addie is an innocent, and honestly a bit of a milquetoast, but Bea comes across as a vixen. I wouldn't want to have Bea in my circle, but her exploits did make for interesting reading. Addie couldn't have carried a book but Bea certainly did.
There are some "surprising" revelations that are so strongly hinted at throughout the story that I'm not sure I was even supposed to be surprised. But there sure was a lot of buildup for them so I don't know what to think.
I believe this is the first time I've listened to a book narrated by Nicola Barber and she did an excellent job. I'll seek her out again in the future.
This is a more serious family saga/romance than I was looking for, so readers who prefer those kinds of books will like it more than I personally did. As for me, I'll just keep recommending the Pink Carnation series.
Similar Books:
If you liked The Ashford Affair, you might also like my reviews of
Purchase:
Buy The Ashford Affair from Malaprop's Bookstore in beautiful Asheville, NC or
---