---
I have an affiliate relationship with
Bookshop.org
and
Malaprop's Bookstore
in beautiful Asheville, NC. I will earn a small commission at no additional cost to you if you purchase merchandise through links on my site. Read more on my
affiliate page
.
---
Minerva Dobbs is a sensible girl. She's an actuary, the man she's dating is a sensible choice, and her clothes are sensible and "slimming." But then there are her shoes. Her shoes hint at the real Min. Her shoes are fun, frivolous concoctions.
One night, Min meets Calvin Morrissey in a bar. As she's heading over to introduce herself to him, she hears her just-minutes-ago-turned-ex-boyfriend make a bet with him that Cal can't get her into bed within a month. Ouch. >_< That one stings a little. But Min isn't going to take this lying down, so to speak. She decides that she can play this game as well. She'll go out with Cal, string him along and make him and the barely-ex look like fools. At least that's the plan. Cal's charm is almost impossible to resist, as are his amazing good looks.
I did love this, but worst thing first. I listened to this book, and while I loved Deanna Hurst's narration, I picked up on a serious fault in the writing that I probably would have overlooked in print. I swear, every other sentence, and sometimes every sentence, ended with said. I obviously don't have anything in front of me to give a real example but it was literally this bad:
"Those are great shoes," Cal said.
"They're my favorites," Min said.
"They might be mine too," Cal said.
"Watch it, charm boy," Min said.
"I'm being honest. They're great shoes," Cal said.
Again, NOT a direct quote, but it might as well be. I wasn't sure I was going to be able to continue for a while there. It was driving me crazy! But it didn't take me long to get caught up enough in Cal and Min's almost-romance that I was able to overlook it. It definitely continued, it just didn't matter as much anymore. But it does matter enough to knock back a book that would have been 4.5 or possibly even 5 stars to a plain old 4.
That aside, this was fabulous. I just had to love Min. I don't know how she's as well-adjusted as she is with a mother like hers. Some girls really are just big-boned and no amount of carb-cutting will help, but Mrs. Dobbs doesn't buy it. Min has turned out strong and funny and she somehow has a good grasp on what's important in life. She has a sharp tongue on her and I even winced sometimes when she knocked Cal down a peg or two! When it's time to come to Cal's defense though, she more than rises to the occasion, and I found myself gasping in shock as she dealt with his awful family. Cal's nephew adores her, she has a great group of friends, and I was firmly in her corner throughout the book.
Cal was something else entirely. At first, he was a little too smooth. You know how guys are when every woman they meet immediately starts fantasizing first about taking him to bed and then about having his children. They start to take it for granted and they get a little sleazy. Well, sleazy is too strong a word, but you just want to wipe the faux charm off your skin. That's how Cal's gotten. But then he meets Min and he doesn't know what's hit him. He picks up on the shoe thing right away. Then Min is so mean to him that he writes her off. But somehow he can't get away from her. He keeps running into her and he can't stop thinking about her. Her direct approach catches his attention. And when he decides to seriously go after her, he pulls out all the stops. He's sexy and funny and caring, and he even tells Mrs. Dobbs to back off about the carbs. I cheered out loud when he did that! It's about time someone stood up to the old bat! Cal for one, enjoys Min's curves and convinces her that she's sexy and needs to show them off. You just have to love a man who loves a woman for the way she is, curves and all.
Min's and Cal's friends were mostly a lot of fun in their own right. Bonnie and Roger firmly believe in the "fairy tale" and they're going after it together. Tony is an outward jerk with an inner heart of gold. Liza–eh. Liza didn't quite win me over. It might have been Deanna Hurst's voice for her. It was very snooty and drawling. It might have been the way that she kept whacking Cal on the head while saying a line that I came to hate. I just felt like Liza felt she knew better than everyone else. Her heart was in the right place though.
The "bad guys" were a lot of fun to hate. Mrs. Dobbs got me rolling my eyes a lot with her constant comments about butter and carbs and Min's weight. Mrs. Morrissey was awful with her Ice Queen jabs at Cal's choice of career. Min's ex was a real slimeball. I wanted to reach through the speakers on him a few times. Cal's ex wasn't quite as bad, but she had her moments too. At least I knew she was coming from heartbreak rather than just trying to win a bet though.
I laughed, I cheered, I gasped, I smiled, I fantasized about chicken marsala and chocolate-covered Krispy Kreme doughnuts. I was fully invested in this and I enjoyed the heck out of it. I was desperate to know how it ended while at the same time, dreading the final words because I didn't want it to end. I highly recommend this one for a light summertime read, and even recommend it on audio if you can overlook that one glaring thing I mentioned. I think know you'll have a lot of fun with it.
Read an excerpt.
Find author Jennifer Crusie on her website, her blog, Facebook, and Twitter.
Read more reviews at The Allure of Books, A Small Accomplishment, and Angieville.
If you like Bet Me, you might also like Austenland by Shannon Hale, The Fixer Upper by Mary Kay Andrews, and Truly, Madly by Heather Webber.
Buy Bet Me at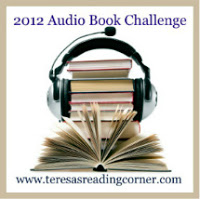 I have an affiliate relationship with Malaprop's, my local independent bookstore located in beautiful downtown Asheville, NC; and Better World Books. I will receive a small commission at no cost to you if you purchase books through links on my site.