---
I have an affiliate relationship with
Bookshop.org
and
Malaprop's Bookstore
in beautiful Asheville, NC. I will earn a small commission at no additional cost to you if you purchase merchandise through links on my site. Read more on my
affiliate page
.
---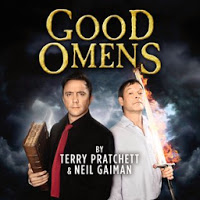 In a hospital in England, the anti-Christ is born, making unlikely allies of the demon Crowley and the angel Aziraphale. They've both spent quite a bit of time on Earth and they actually kind of like the place. They're not ready for the End of Days. So they set out to make sure it doesn't happen.
I read this book about half a lifetime ago, which makes me feel a little old. I really enjoyed it. When I saw that it was going to be adapted for radio by the BBC and we could stream it on our side of the pond, I was excited.
I think I was a little distracted as I was listening to it. I only listened to it around the house so I could stream it over our wifi. And of course I was puttering around as I listened. I laughed in all the right places but it felt disjointed to me. I think that's at least partly because I would get focused on whatever I was doing for a minute or two and then try to pick up the thread of the narrative again. Also, the BBC app is terrible. I could only listen to five minutes at a time before the audio started whistling at me, so then I'd have to exit completely out and go back in to listen to the next five minutes. That shows some sort of dedication on my part, doesn't it, that I listened to the whole thing like that?
Also, (I'm afraid to say this), I tend to love Neil Gaiman's books but I've never been a huge Terry Pratchett fan. My sister has tried to get me to read the Discworld books forever. I've read a few. I enjoyed one and the others were just too random and over the top for me. That's how Good Omens felt to me now. I don't know if my taste has changed or if it just stood out to me more in this format.
The adaptation was very well done though. I haven't listened to many (if any) other radio adaptations, and I liked the full cast and the sound effects. I can't think of any weaknesses in that aspect of things.
I don't know if this is still available, but fans of the book should definitely check it out. I think I just had too many other things going on because I really should have loved it.
Check out the BBC Radio 4 Good Omens page.
I have an affiliate relationship with Malaprop's, my local independent bookstore located in beautiful downtown Asheville, NC; and Better World Books. I will receive a small commission at no cost to you if you purchase books through links on my site. My opinions are completely my own.