---
I have an affiliate relationship with
Bookshop.org
and
Malaprop's Bookstore
in beautiful Asheville, NC. I will earn a small commission at no additional cost to you if you purchase merchandise through links on my site. Read more on my
affiliate page
.
---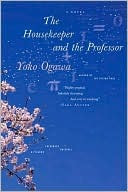 The Professor is a brilliant mathematician who suffered some brain damage in an automobile accident years ago. He can remember his entire life up until the accident, but afterwards, he only has a memory of the past 80 minutes. Luckily, his sister-in-law steps in to help care for him. She hires housekeepers to come in to his little cottage and cook his meals. Needless to say, the Professor scares off many of these women. But then The Housekeeper comes along. She's something of a specialist in difficult cases. She is patient with the Professor and introduces herself to him every morning, respects the days when he is thinking, and generally wins him over again every day.
This is an elegantly-written novel. There aren't any wasted words, but it is still beautifully written. Every word seems to be chosen with care.
I can't say that a lot happens in the story itself. There's no big, romantic love, no adventure, no heartbreak. But the story is beautiful too.
These are characters that I learned to care about. The Professor is overwhelmed by the world and seeks solace in his orderly numbers. He obviously has a huge heart. He adores the Housekeeper's son, and really all children in general. The Housekeeper is a single mom doing the best she can and finding the time to care for and about this slightly damaged man. They are both lonely and they find each other and they form their own unique kind of family. It's a beautiful story and I loved it.
Quite a bit of the book revolves around mathematics. Don't let that put you off. The Housekeeper tells the story, and she is not a mathematician. None of that is overwhelming.
I wouldn't change a thing about the book, but I do have to say that I am curious about the Professor's past. The Housekeeper finds an old photo that brings up a lot of unanswered questions. And I just get the feeling that there's some kind of tragedy that led to the Professor's intense concern for children's safety. I'm happy to leave my questions unanswered though. The Housekeeper and her son learn to care for the Professor just as he is, without any concern for his past, so it feels right that the past stays in the past.
The translator, Stephen Snyder, obviously did an amazing job. This kind of writing is rare from authors who write in English. It takes a very talented team of author and translator to produce it in a translation.
For a quiet, beautiful, feel-good book about friendship and families, pick this up.
Recommended by Fiona at The Book Coop.
Read an excerpt.
Buy The Housekeeper and the Professor at
I have an affiliate relationship with Malaprop's, my local independent bookstore located in downtown Asheville, NC; and Better World Books. I will receive a small commission at no cost to you if you purchase books through links on my site.