---
I have an affiliate relationship with
Bookshop.org
and
Malaprop's Bookstore
in beautiful Asheville, NC. I will earn a small commission at no additional cost to you if you purchase merchandise through links on my site. Read more on my
affiliate page
.
---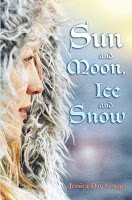 The lass is the last child in a family of nine and the fourth unwanted girl. She is so unwanted that her mother doesn't even bother to name her. When a polar bear comes crashing through the door one night and asks her to live with him in his castle for a while, she agrees on the condition that her family will be provided for. And her adventures begin.
I really don't think I've ever read East of the Sun, West of the Moon (the fairy tale that this is based on), but I truly enjoyed the book.
Retold fairy tales obviously come in many shapes and sizes, and this book stayed very true to the feel of the old fairy tales. The characters were developed a bit more, but I still wouldn't say that they're well-developed. The story was more about "what happened next," and I kept turning pages to find out exactly that.
I liked that the lass could talk to animals. It added an extra element to the story when her pet Rollo could tell her what the castle walls smelled like.
There were some lessons to be learned here, such as not giving up and avoiding trying to be something you're not.
I was going to give this four stars, because I really did enjoy it while I was reading it, but now that I'm trying to write my review a week later, I find that the book has already faded in my memory, so I'm going to bump it down to three and a half stars.
I'll still recommend it, but I'll probably find myself searching out a different re-telling of this fairy tale to see how they compare.
I just found and read the original fairytale, and Jessica Day George did stay remarkably true to the original. Read it if you're interested, but it will be full of spoilers for this book.