---
I have an affiliate relationship with
Bookshop.org
and
Malaprop's Bookstore
in beautiful Asheville, NC. I will earn a small commission at no additional cost to you if you purchase merchandise through links on my site. Read more on my
affiliate page
.
---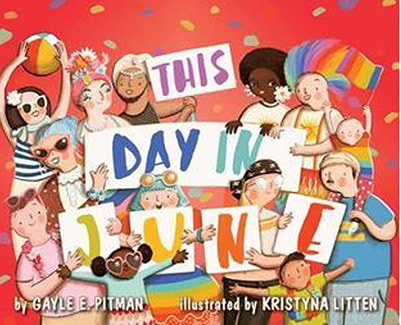 Title: This Day in June
Author: Gayle E. Pitman
Illustrator: Kristyna Litten
Genre: Picture Books, Social Issues
Audience: Children
Format: E-book
My Synopsis:
This Day in June introduces children to the joyous exuberance of a pride parade, where "we're all united." A Reading Guide at the back offers age-appropriate tips to parents for discussing LGBTQIA+ issues with children.
My Review:
The rhyming couplets and colorful pictures in this book are sure to please little readers (or listeners, as the case may be). The parade is full of colorful characters, some in fancy dress, others in outfits that can be found at a Village People concert, but all happy and excited to be a part of this celebration. The illustrator chose to keep the observers in muted colors to focus attention on the parade itself, but a close look shows them holding positive signs such as "I love my dads," "Born this way," or "Pride." Same-sex couples occasionally share a chaste kiss or hold hands in this celebration of love in all its forms. I love that participants and parade marchers alike present a racially-diverse crowd as well.
I don't have children but this seems like an excellent tool for heterosexual parents to introduce the little crowd to the LGBTQIA+ community and open the doors for honest questions and discussion. I even found the Reader's Guide at the end to be informative (I didn't know that lesbians and gay men had to wear arm bands with black or pink triangles, respectively, in WWII concentration camps). The page-by-page breakdown explains each line of the text as well as any illustrations that are particularly meaningful.
I recommend this for any parent who wants to foster acceptance, love, and a broader sense of community in their young children but who might not know where to begin this particular conversation.
Banned: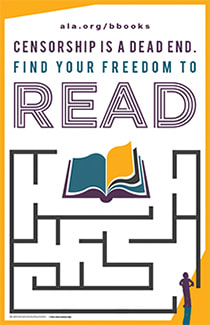 According to the American Library Association, This Day in June has been "challenged and burned for including LGBTQIA+ content." Burned! Really? A children's picture book made someone so angry they felt entitled to burn it? What year are we living in?
I'm getting repetitive this week, but if you don't want your children to read a book, that's your choice. I disagree with that choice but it's still your choice. Just like my choice to read this book is my choice, not yours. You are not allowed to choose what I read, end of story. The book synopsis clearly states that it's about a "pride celebration" and the "LGBT community" so it's easy enough to move along if this is a topic that you personally aren't comfortable with. That should be the end of the story. But it's obviously not for some people. *sigh*
Similar Books:
If you liked This Day in June, you might also like my reviews of
Purchase:
Buy This Day in June from Malaprop's Bookstore in Asheville, NC.
I have an affiliate relationship with Malaprop's Bookstore/Cafe in beautiful Asheville, NC. I will earn a small commission at no additional cost to you if you purchase merchandise through links on my site.