---
I have an affiliate relationship with
Bookshop.org
and
Malaprop's Bookstore
in beautiful Asheville, NC. I will earn a small commission at no additional cost to you if you purchase merchandise through links on my site. Read more on my
affiliate page
.
---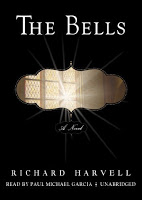 Moses Froben. A world-famous opera singer. No one would ever guess the story of his life.
I just loved Moses when I read his story in The Bells by Richard Harvell. He began life as the only son of a deaf woman whom everyone believed to be the village idiot. Their life was not easy, surviving as best they could in a hovel, but really and truly living in the bell tower of the village church. Unknowingly, she gave her son the priceless gift of a beautiful voice and the ears to recognize beauty when he hears it.
Moses eventually ends up living with some monks, who recognize his talent and start to train his voice. He's a lonely boy who lives in uncertain fear of some of the monks. He loves the music though, and does what he must in order to have it.
The world through Moses's eyes is uncertain and dark for the most part. But when he finds love, the whole tenor of the book changes. He grasps it tenderly but with both hands, because he has learned how easily that which we love is lost. When obstacles stand in the way of what he wants, whether that is happiness or his career, he does not let anyone stand in his way. I don't remember thinking of Moses as being a particularly powerful character; he wasn't the type to pick fights or draw attention to himself. But tenacious describes him perfectly. He chooses his battles wisely and then puts everything that he is into them. His life is never easy, but he doesn't complain overly much, and he makes the most of his opportunities. When things happen to him that would crush the souls of most people, he picks himself up and keeps going. When he loves, he loves with all his heart and soul, and thus lives a rich, rewarding life.
Who did you connect with this week? Link your post on Mr. Linky, then be sure to go check out the other Character Connections!
Who do ya love?

Or love to hate?

You know you've got a lot to say about some larger-than-life characters, and this is the place to say it. Write a straightforward post. Draw a picture. Vlog, write poetry, write fiction, cast the role, be as creative as you want!

Be sure to post the book's title and author, and be very careful not to give away spoilers while talking about how much you love your characters.

Mr. Linky will be posted here on The Introverted Reader every Thursday.
I have an affiliate relationship with Malaprop's, my local independent bookstore located in downtown Asheville, NC; and Better World Books. I will receive a small commission at no cost to you if you purchase books through links on my site.