---
I have an affiliate relationship with
Bookshop.org
and
Malaprop's Bookstore
in beautiful Asheville, NC. I will earn a small commission at no additional cost to you if you purchase merchandise through links on my site. Read more on my
affiliate page
.
---
Don't you just love larger-than-life characters? The ones who jump off the page and grab you? Whether you love them or hate them, you can't be indifferent to them.

I would love to know about the characters who just won't leave you! Most of you will probably post about how much you love (or loathe) each character, but this is a great place for the more creative ones among you to let go and have fun! Write yourself into a scene with Anne and Diana. Write a love poem in elvish for Aragorn. Draw a picture of Harry obliterating Voldemort. The possibilities are endless.

Be sure to post the book's title and author, and be very careful not to give away spoilers while talking about how much you love your characters.

Mr. Linky will be posted here on The Introverted Reader every Thursday.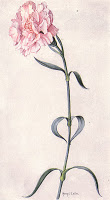 I just finished reading The Mischief of the Mistletoe by Lauren Willig. I love these books but haven't done a Character Connection because my favorite characters have been earlier in the series. But now I can write about Reginald "Turnip" Fitzhugh. Turnip has money, he's gorgeous, but he's also dumb as a– well, you know. The nickname.
I confess that I haven't paid a whole lot of attention to Turnip in the other books, but I did love the big doof in this book. He has horrendous taste in waistcoats and cravats. He might wear them well, but he's a little too fascinated by the Pink Carnation; pink carnations are all over his clothes. In fact, some people–who don't know him well enough to know that no one can keep up an idiotic front like his indefinitely–wonder if he might actually be the Pink Carnation. Britain's league of spies uses that to their favor though, and Turnip good-naturedly serves as a decoy as the real Pink Carnation goes about the business of international espionage.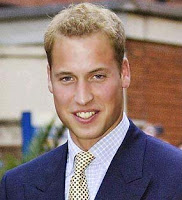 Turnip is handsome, and not the brightest crayon, but he has a gigantic heart. He has a frustrating younger sister but he's still wrapped around her finger. He's rich but doesn't even think about class as a general rule; he just accepts everyone at face value. Everything he's thinking moves across his face, and he's not afraid to defend a lady's honor. He's unbelievably loyal to his friends. In short, he's a gentleman indeed!
Mr. Fitzhugh is British, tall, and blonde. Prince William isn't looking his most intelligent in this picture. I can see Turnip looking like this.
Who did you connect with this week? Link your post on Mr. Linky, then be sure to go check out the other Character Connections!
I have an affiliate relationship with IndieBound, Book Depository, and Better World Books and will receive a small commission at no cost to you if you purchase books through links on my site.