---
I have an affiliate relationship with
Bookshop.org
and
Malaprop's Bookstore
in beautiful Asheville, NC. I will earn a small commission at no additional cost to you if you purchase merchandise through links on my site. Read more on my
affiliate page
.
---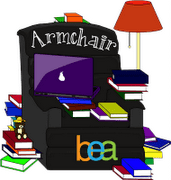 There is a Book Blogger Convention going on today at Book Expo America and I am at least as jealous of the attendees of this event as I am of those grabbing ARCs and meeting authors. Look at these topics they'll be learning about:
Marketing – How to increase your blog stats, Branding, Getting your name out there
Writing and Building Content – Tips and tricks on writing good book reviews, Tone-humor sarcasm, I'm out of ideas what do I do now?/How do I keep it fresh?, Planning a good feature/series, What content is most popular? How do I innovate/differentiate?, How do I balance reviews with other content?
Impact of the Relationship Between Author and Blogger – Creating/Fostering a relationship, Pitfalls of relationships between blogger/author
Blogging With Social Responsibility
I need help with all of these!
Just because we can't be there in person doesn't mean that we can't learn from each other. So head on over to Armchair BEA and join in our virtual Book Blogger Convention Roundtable.
I've struggled with this post. I felt like I didn't have anything to say about any of these topics and everything to learn. Then I participated in the #armchairBEA Twitter party last night and it hit me: I could blog about why you as a blogger should consider signing up for Twitter.
I'm a recent Twitter convert myself. I only signed up a couple of months ago. Before I signed up, I just thought it was a place where people said stuff like, "I'm going to brush my teeth," or maybe the slightly more exciting, "Having a glass of wine." I was so wrong!
Do those tweets come through? Sure. We all tweet them occasionally. But really it's a place to interact in real time with your fellow bloggers and readers, and even authors, publishers and publicists. I felt like I had a decent idea of who the people behind the blogs were before joining Twitter, but now that I've been on Twitter for a while, I feel like I'm really getting to know them. With the hours I keep, it's hard for me to join in while everyone else is on, but when my schedule allows it, I stumble in on some great conversations. Take Armchair BEA for instance. Someone tweeted about how they felt left out because of the all the excited BEA chatter from those who were going, next thing you know, this great idea was born. Today I tweeted about a local BookFest, another blogger saw it and contacted me, now she knows about it and I might get to meet a blogger I like. It's a win for both of us and it wouldn't have happened without Twitter.
So what does this have to do with Book Blogger Con? Think of it as another marketing tool. I think that's one of the smallest aspects of Twitter, but it is definitely there. Think about it–as you're getting to know other bloggers, they're also getting to know and like you. They're re-tweeting your content to their followers who might not know you. Those followers check out your links and you've got new followers. In the meantime you're following links you see in tweets and finding bloggers and readers you might never have found otherwise. You see? It's a big give and take and I think everyone wins.
So if you're not on Twitter, give it some serious thought. It is one more thing to take up your time, so realistically, you might not be able to squeeze it into your busy schedule. If you can make time for it at all, though, I highly recommend you join. It's a vibrant community and I have truly enjoyed getting to know all the book lovers in all their various capacities better.