---
I have an affiliate relationship with
Bookshop.org
and
Malaprop's Bookstore
in beautiful Asheville, NC. I will earn a small commission at no additional cost to you if you purchase merchandise through links on my site. Read more on my
affiliate page
.
---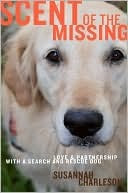 Five Communication Lessons from a Search-and-Rescue Dog
by Susannah Charleson
Author of: Scent of the Missing: Love & Partnership with a Search-and-Rescue Dog
She does not speak English, and I do not speak dog. And yet somehow six years into my partnership with Puzzle, a golden retriever and certified search-and-rescue K9, we have forged a common language. We need it in the search field. Our working life together is framed by loss and urgency—a person missing, time passing, a family and community desperate for answers. And so Puzzle and I enter the hard spaces where a lost person might be, and I give my dog a command, and off she goes into the thick of it, independent and ahead of me, ready to communicate back what she knows. It's my job to translate her and move all of us closer to a rescue.
Having run beside many other dogs and handlers before I met the puppy who would become my partner, I knew this kind of collaboration existed, this necessary dialogue. What I didn't realize is how my work with Puzzle in the search field would improve my communication with other humans, too.
Here are some of the lessons offered by a working search dog in the dark.
1. Avoid Hasty Conclusions.
Experience is the best teacher, we're told, but sometimes past experience can be misleading. While it's easy to judge from the obvious and frame people, places and events by things we've seen before, such grab-and-go thinking can cause us to overlook important differences, to miss what we don't expect, and to stereotype others. Search dogs don't work with these kinds of preconceptions. Every new situation is taken on its own terms, the obvious and the subtle alike. The dogs operate on what's real and present to them right now: scent/no scent, here/not here. They don't read lost person behavior studies. They don't assume anything is a given. Anything can be possible—and frequently is. From the dogs I've learned the value of keeping a fresh perspective.
2. Find A Better Way to Say Things That Are Unclear.
Search dogs and handlers train for reliable communication about important issues in the search field, whether unstable terrain, a snake on the move, or the presence of human scent rising from the rubble. Ideally, the handler can see and hear the dog, and the signals are clear between them. But search partners have to communicate even when conditions aren't ideal. If Puzzle has scent she cannot get to, and I don't respond to her known signals, she will whine into the brush she can't penetrate, or paw at the door that separates her from the scent, or run to another part of the ravine and try to lead us in that way. She knows her job is to identify human scent and find its source, and she also knows when she has sent a message I haven't acknowledged. She is willing to communicate another way if she has to – with voice or action or both.
That search dog tenacity instructs me. When ideas are important between humans and our common language fails, frustration can cause us to blame the other person for "not understanding" or to give up the message entirely. Neither action makes the important idea go away, and the resulting silence between us can cause harm. I never expected to take lessons on being clear from a canine, but the search dogs' willingness to try again, to communicate difficult information in different ways is a good one to learn.
3. Ask For Help When You Need It.
Search dogs are a hard-charging, confident lot. They are motivated, they are fast, and many of them are extraordinarily good at what they do. That said, the most experienced search canines seem to understand that their human partners are not only there to decode, but also to help when needed. Puzzle as a search-pup-in-training loved wilderness work, but in her youth and inexperience would try to plough through heavy brush unassisted. The cuts and stings didn't seem to bother her, but when she became thoroughly entangled in thorns and vines, she would struggle until half-exhausted, trying to free herself – sometimes struggling more when I headed into the tangle to help her! As she matured, Puzzle learned that the best way to get free was to freeze where she was and communicate with a particular whine and a funny, tight little sway of tail, as though to say she sure was stuck, but happily expected I could fix it. And I could. And we were off again.
Perhaps there's such a thing as being too self-sufficient. Asking for help when we need it may get us to a common goal faster – and get us there together.

4. Practice Trust.
Search old-timers say that one of the hardest things for new handlers to learn is how to trust the dog. There's a certain leap of faith we have to make in the dark behind a creature that has gifts we don't share. We learn to trust the dog across the hundreds of increasingly-difficult test searches we do in training together, but it's sometimes tempting to give in to doubt and try to take over. Not a good idea. We simply can't smell what dogs can, and we certainly can't search a large area as quickly with our other senses. We have to believe in their ability with scent we cannot see.
Similarly, it takes discipline for humans to trust each other in so many contexts, even when relationships have established, skills are known, and trust has been earned. What is it that makes us doubt? Need or impatience that exceeds our fragile faith in one another? Past experience? There's no quick diagnosis for why some people struggle with trust and no quick fix for the problem, either. I do know that the discipline of trust behind my search dog, whose talents of nose are proven, was something I had to learn. And it's led me to practice trust in others, to not think I have to do it all or believe I'm the only one who can do it in the first place.

5. Forgive Quickly and Move On.
In their own way, search dogs demonstrate forgiveness. And we partners are grateful for it. Trainers say that the dogs catch on to the whole process of finding people more quickly than we do. It doesn't take much for them to learn that we need them to find human scent –and not other animals, dropped hamburgers, or unspecified gook. But on the other side, humans have much to learn about their canine partners and how scent works in heat and in cold, in wilderness with variable wind or in rubble with no wind at all.
And so we make mistakes in the training field. The dogs may have the scent, and we may miss it or dismiss them altogether. We learn from such errors, and we head back into training sectors wiser. Generally the dogs, with their gift of being present, stay enthusiastic about the next training search, and the next, and the next as we progress with them toward certification. They let our past mistakes beside them go. A limitation of intelligence or an inherent graciousness? I don't think it matters. The search dogs' example reminds me of all the ways I'm less forgiving of my human counterparts and of myself. Inevitably, such grudge-holding separates us from one another, slows us down. A little less memory, a little more generosity of spirit may make the difference.
With such personable, responsive creatures beside us, it's easy to anthropomorphize the dog. "Man's best friend is almost human," some say. But I value them for the reverse, for all the good that's in their essential dogness. They are not human, and I am not a dog, but our relationship changes both of us. And I come away from it better, I hope—better to my two- and four-footed companions alike.
Copyright © 2010 Susannah Charleson, author of Scent of the Missing: Love & Partnership with a Search-and-Rescue Dog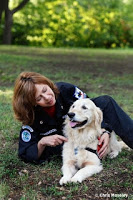 Susannah and Puzzle
Posted with permission
Author Bio
Susannah Charleson, author of Scent of the Missing: Love & Partnership with a Search-and-Rescue Dog, works as a handler with her partner, a Golden Retriever named Puzzle, for the Metro Area Rescue K9 unit in Dallas, Texas, a volunteer canine search-and-rescue (SAR) team responding to local, state, and national search and recovery cases. She also serves as the team's public information officer and gives lectures across the country about SAR. A flight instructor who previously flew disaster searches, Susannah is also an experienced television and radio broadcaster. She and Puzzle share their home with six other dogs, four cats, and a fish named Sound Bite.
For more information please visit www.scentofthemissing.com and follow the author on Facebook.
Posted with permission.
Now that you've heard from Susannah, go check out what Puzzle has to say about The Golden Rules. She is hilarious!
Check back tomorrow for my review!
I have an affiliate relationship with IndieBound and Better World Books and will receive a small commission at no cost to you if you purchase books through links on my site.