---
I have an affiliate relationship with
Bookshop.org
and
Malaprop's Bookstore
in beautiful Asheville, NC. I will earn a small commission at no additional cost to you if you purchase merchandise through links on my site. Read more on my
affiliate page
.
---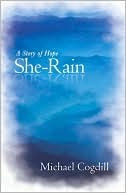 I reviewed She-Rain: A Story of Hope by Michael Cogdill a few weeks ago. I absolutely loved it and blathered on and on about it in my review. I've been given permission to post an article Michael Cogdill wrote. He had me tearing up again when I read this. I swear I'm not a crier, but he keeps finding my buttons! Enjoy.
The High Calling of Hard Times: Leadership, Hope, and Radical Love — Even on the TV News
By Michael Cogdill,
Author of She-Rain: A Story of Hope
The complaints sail almost daily into my professional life. People tell me they find the news so depressing they can't watch anymore. I understand their longing for hope, even as I say the news contains a mother lode of the hope they crave. We journalists and viewers have a way of missing it, even as we look straight at it.
My answer grows from having covered terrible news on television for more than twenty-five years. Holding what I deem the sacredness of human grief on my very breath — as a television reporter and anchor — has revealed to me the power of the news to inform some of the best of humanity. It forms a lesson in leadership, especially in the worst of times.
Aristotle believed "happiness depends upon ourselves." In the coverage of stories such as 9-11, the earthquake in Haiti, or a suffering child in America, we discover the joy of our dependency upon one another. Those stories contain a radical love — the kind we feel for a stranger in whose eyes we recognize something magnetically familiar. News of human suffering clarifies what Mother Theresa meant when she said charity isn't about pity. It's about love. Too often we who cover and consume the news — or write about any human events — fail to see through the hardship to find the leadership. We miss the seismic love.
A few years ago, a tiny piece of television brought me to a man whose life forms a clear window on the power of both. When we met, he was chronically underestimating the potency of a heroism he had lived. This is the soldiering story of George Campbell.
I met Mr. Campbell on a steaming day in June. We shot a TV public service announcement together for a terrific charity, Meals on Wheels, whose volunteers bring hot meals and priceless company to the elderly and infirm. Mr. Campbell lived a small life in a tiny house in Greenville, South Carolina. Apart from the tick of a clock in his living room, it seemed a life of nearly constant silence. Having finished our quick work, we chatted a moment. I had noticed a shadow box on his wall, holding some of the noblest honors the U.S. Military can award. When I asked about those medals, he stood silent for a time, then replied, "You know, son, it was almost 60 years ago to this day I set foot on that piece of France they called Omaha Beach."
That small retired pharmacist had served as an unarmed U.S. Army medic on D-Day. He had climbed out of a boat directly into the savagery General Eisenhower knew awaited the men of that terrible time.
Mr. Campbell, in his courtly, humble, and gentleman's way, told me of running through the Nazi hell that rained onto the men of that beach. He spoke of expecting, any moment, to join the swelling tide of death before him.
It took little time for his well-kept memory to reach the first fallen man he had found.
"I rolled him and saw it," he said. "A spurting wound of the chest. And there was a girl, right there with him. He had a girl's picture in his hand."
In the din of battle, that anonymous U.S. serviceman lay with blood flowing across the hands of Medic Campbell, and he begged him. "Help me get home, Doc. Help me outta here to see her again."
With me at his kitchen table, those sixty years later, Mr. Campbell withdrew into another moment's quiet. Then he spoke of a hopelessness he still felt. There was no saving that boy. He could only kneel there with him until death came. One terrified man had simply knelt with his hand on the blood-sodden chest of another, whom he did not know. That became George Campbell's full experience of D-Day. From one broken body to the next, he had made his way across that jagged beach, and he carried a despair of it across those sixty years to our time and place together — there in his little house and near anonymous life in America.
"They died on me," he said, thrusting down tears. "All of them."
Every boy Medic Campbell had reached during his D-Day service had died. And palpable in his voice was the feeling of failure. He, in his private sadness of war, felt he had failed as a soldier and, on some levels, as a man.
What followed stands among the most valued and sacred moments of my career. For I had the opportunity, such as I am, to remind that gentle veteran of what he had done — how he had led, and deeply loved, strangers through the worst time of their lives. It had clearly never dawned on him that, because of him, not one man he reached on that beach died alone. Because of his mettle, those men died witness to the terrified love and hope of a fellow man. As he knelt with them, he feared with them. I'm quite sure he wept with them. Yet he became their living courage, their leader to the mercies of death, a mortal usher who helped shoulder them to death's veil. Without being able to save a single life, he proved to them how courageous leadership truly feels — not the absence of fear but the presence of care.
Up in his eyes, in that storm of doomed Nazi horror, dying men saw the very best of humanity. He led them to a ground of peace, forged their final relationships on earth. With him they experienced an intimacy with hope.
We men tend to rattle a bit when we venture a try at love talk. As I write this I can but hope I managed to convey to Mr. Campbell the stunning force of the love I felt from him. I can only trust I convinced him, in some small way, of the priceless difference his life had made in the withering moments of the lives of soldiers barely out of boyhood. He had become a quiet hero of Omaha Beach — one of its many great leaders. If I could, I would call and remind him of this even now. I long for the opportunity — even to thank him again for his service. Not long after our time together, shared there in his home and in his memories, Mr. Campbell died.
Yet he lives in this reporter's memory, and in the ways he makes me a better man. Because of my time with him, I am led to become a more caring writer — of journalism and, yes, even fiction as it draws from our deepest reality.
Before his death, I was blessed to report a TV story on Mr. Campbell for the 60th anniversary of D-Day. As with so many, that story cast forth a human tragedy. To this day it is a story of war's unstoppable grief. Yet within it, viewed through the lens of the soul as well as the mind, that story gives off the hope of what great leaders do. They move toward the people they lead. They carry on lives of extravagant caring. With a broadness of the heart, they bear another's hurt with beautiful humility.
In the next story of what seems boundless grief on the news, may we each hear that whispered call to lead with such a radical, generous form of love. May we look within ourselves for the leader who quietly scatters hope where it seems only hurt will live. To paraphrase and nuance Gandhi just a bit, may we become the hope we long to see in the world.
And to that end: Veterans out there — this reporter says, THANK YOU! This writer of journalism and fiction owes you a debt beyond words. And to you, Mr. Campbell, peace to your spirit, sir, with gratitude for trusting, and loving, me enough to share that great triumph of your days.
© 2010 Michael Cogdill, author of She-Rain: A Story of Hope
Author Bio
Michael Cogdill is blessed as one of the most honored television storytellers in America. His cache of awards includes 24 Emmys and the National Edward R. Murrow for a broad range of achievement, from live reporting to long-form storytelling. His television credits as a journalist include CNN, CNBC, MSNBC, and The Today Show, and Michael's interview history crosses a wide horizon: The Reverend Billy Graham, Dr. Mehmet Oz of Oprah fame, Dr. Henry Kissinger, Abby Hoffman, Senator Hillary Clinton, Senator John McCain, Howard K. Smith, James Brown, Keith Lockhart of the Boston Pops and many other newsmakers. His coverage credits include Presidents and Vice Presidents of the United States.
Michael spent ten years writing She-Rain, letting it evolve into a world of fiction drawn from his upbringing in Western North Carolina but reaching far beyond. His other writing credits are Cracker the Crab and the Sideways Afternoon — a children's motivational book, and a self-help volume, Raise the Haze. Michael makes his home in South Carolina with his wife, Jill (a publishing entrepreneur), and their second-generation golden retriever, Maggie. He's currently working on his second novel.
For more information, please visit http://she-rain.blogspot.com