---
I have an affiliate relationship with
Bookshop.org
and
Malaprop's Bookstore
in beautiful Asheville, NC. I will earn a small commission at no additional cost to you if you purchase merchandise through links on my site. Read more on my
affiliate page
.
---
Yesterday I reviewed Mountainfit, a beautiful little book of essays by Meera Lee Sethi about her summer volunteering at a bird observatory in Sweden. If you missed the review, I'll be happy to wait while you go check it out now. Want the short version? Read it. Beautiful, descriptive language that evokes the wildlife and landscape of Sweden while leaving you thinking about your own inner landscape. Good stuff.
Today, Meera has agreed to guest post and she has treated us to something a little different. I know you'll all enjoy it!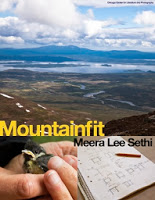 Meera Lee Sethi is the author of Mountainfit, a book of short essays about science, nature, birds, Sweden, and the many questions we ask ourselves as we're figuring out how to live in the world. She is currently on a ten-day "virtual book tour" organized by her publisher, the Chicago Center for Literature and Publishing.
This is the very last day of Mountainfit 's book tour, and after sharing essays, interviews, video chats, a recipe, and a chapter recording, I thought I'd end on a high note and make a playlist to go with your enjoyment of the book. Approximately six hours of listening, reading, frowning, adding, and deleting later, I'm delighted to share with you the official soundtrack to Mountainfit in the form of this Spotify playlist (Apologies in advance for the ads you'll hear occasionally as it runs.)
The playlist begins with the totally infectious Step Outside because that's exactly the invitation I'd like the book to extend. Mountainfit is about many things, but perhaps more than anything it's about how much you gain when you step outside—literally and figuratively.
The two songs that follow are by the Swedish folk band Triakel; I fell in love with them when I was over there, and these songs in particular are lovely because they're sung not in Swedish, but "Jamtish," "Jamtlandic," or "Jämtska"—all names for the ancient dialect that comes from the province of Sweden where the bird observatory is located.
Some of these pairings are tenuous, or a little whimsical—hooded crows are related to rooks, for instance, so the little piece about them goes with a song called Rooks by Shearwater; and because they're so fierce, the chapter about lemmings gets a song called A Lion's Heart (by an amazing Swedish singer-songwriter who goes by the name The Tallest Man on Earth). Also, I confess, I paired Billy Bragg and Wilco's Way Over Yonder in the Minor Key with the chapter about the mythology of birdsong mostly because of that irresistible line in the chorus, "There ain't nobody that can sing like me." (The chapter is a little more serious than the song.)
Some pairings are very personal: Moonshiner was a song I used to sing out loud all the time when I was out tracking (almost every day, really) so it goes with a chapter about birds I would hear every day. After all, they heard me, too. Old Pine is a song that I associate strongly with the joy of being outside—"And we stood/ steady as the stars in the woods,/ so happy-hearted," sings Ben Howard—and the chapter it's paired with is about that same thing. The chapter about gyrfalcons is really a celebration of wildness; and of understanding wild animals as themselves, not as reflections of us. I paired it with a song that just felt right: A cover of the turbulent, intense Stevie Nicks song Wild Heart by a Swedish band.
There are two instrumental pieces in the playlist, and both go with chapters that are about birds behaving in ways that are really untranslatable by language, even though I've tried to do it. I chose an exuberant Charles Mingus recording aptly called Bird Calls for the chapter about a breeding flock of arctic terns fiercely defending their nests, and for the chapter about witnessing a great snipe courtship display—something which may have given me the happiest night of my life—I picked part of an Elgar cello concerto. I get the same glorious goose bumps listening to it that I did that night.
I think I've gone on for long enough; go enjoy this music and the book. If you're curious about any of the pairings I didn't explain here, ask me about it!
Step Outside: by The Finches
the trapeze artist, the cuckoo, and me
I Jamtlann: by Triakel
claim your area
Veit: by Triakel
field notes from a lost lek
Elgar Cello Concerto in E Minor, Op.85:I. Adagio: by Jacqueline Du Pre and the London Symphony Orchestra
the idea of joy
Way Over Yonder in the Minor Key: by Billy Bragg & Wilco
the language of the birds
Bird Calls: by Charles Mingus
where the kría swarm
Believe: by The Smashing Pumpkins
the werewolf possibility
Rooks: by Shearwater
to see a hooded crow with its cowl thrown over its head
Life: by The Avett Brothers
the world's sweetest double-cross
Moonshiner: by Redbird
things often heard
All This and Heaven Too: by Florence and the Machine
different ways of agreeing and disagreeing
Summer Skin: by Death Cab for Cutie
seasonal plumage
A Lion's Heart: by The Tallest Man on Earth
a good lemming year
Old Pine: by Ben Howard
mountainfit
Equestrian: by U.S. Royalty
being king solomon
Wild Heart: by Abalone Dots
the gyr is a gyr
Little Bird: by The Weepies
the vagrant in sweden

One more time in case you missed it: Spotify playlist
Thank you so much, Meera! That must have taken ages to put together. I can't wait to listen to everything!
How about you, readers? Do you know any of these songs? See any old favorites? If you find any new favorites, I'd love to hear about it in the comments!
Check out the other stops on the blog tour while you're here:
Day 1 at Wild Muse (Essay about moss, specialized ecosystems, and the value to be found in them if you know where to look)
Day 2 at Clerestories (Interview)
Day 3 at The Best Damn Creative Writing Blog (Post entitled "When Friends Become Characters")
Day 4 at Superstition Review (Post entitled "On Migrating from Self Publishing to Small Press")
Day 5 at River City Reading (Post entitled "Surprised by Friendship: Writing my First Book with Kickstarter")
Day 6 at TNBBC's The Next Best Book Blog (Meera reading an excerpt from her book)
Day 7 at Coyote Crossing (Video interview)
Day 8 at Guiltless Reading (Photos and stories)
Day 9 at Glorified Love Letters (Recipe–and an awesome blog name. Check out the quote in her header and you'll agree.)
I have an affiliate relationship with Malaprop's, my local independent bookstore located in beautiful downtown Asheville, NC; and Better World Books. I will receive a small commission at no cost to you if you purchase books through links on my site. My opinions are completely my own.