---
I have an affiliate relationship with
Bookshop.org
and
Malaprop's Bookstore
in beautiful Asheville, NC. I will earn a small commission at no additional cost to you if you purchase merchandise through links on my site. Read more on my
affiliate page
.
---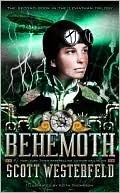 POSSIBLE SPOILERS FOR LEVIATHAN
Now that Great Britain has officially entered World War I, Deryn and Alek find themselves official enemies. Alek knows that he has to escape the Leviathan before his secret is out and he becomes an ultra-important prisoner of war, and Deryn knows that she has to let him go. The two find themselves in Constantinople (or is that Istanbul?), where the Germans are making trouble for the Brits, and developing a weapon that could be devastating for the Leviathan. Can Alek prevent a war, and can Deryn save her beloved ship?
I am still loving this series. Deryn is such a feisty character. She's super-intelligent, practical, and not afraid to do the right thing. She's also finding it harder and harder to keep her identity a secret from Alek. Her solutions to problems are always ingenious and she just leaps off the page for me.
I don't have quite as much to say about Alek. I like him, but compared to Deryn, he's kind of boring.
A new character, Lilit, is introduced in this book, and I loved her too. She's a lot like Deryn, but she's able to live as a girl and still show the boys a thing or two about driving Clanker machines. She's fantastic and I hope we see more of her.
The action just didn't let up, and I was always interested to see how things were going to work out.
The ending was a bit weak because I thought it just stopped. I actually flipped forward and backward a few times on my nook to make sure I hadn't missed anything. As far as I can tell, I didn't. It just ended. Not exactly on a cliffhanger, but just in an odd place.
I received an e-galley from the publisher, and I have to say that I missed the illustrations. I was able to see a few, but mostly I just saw titles. I'll be picking up a physical copy of the book and checking them out. The ones I did get were still awesome. I love this Clanker vs Darwinist world that Westerfeld has created.
I highly recommend this for fans of the first in the series, and for those who don't mind a little steampunk mixed in with World War I.
I received an egalley for review from Simon Pulse via Shelf Awareness.