---
I have an affiliate relationship with
Bookshop.org
and
Malaprop's Bookstore
in beautiful Asheville, NC. I will earn a small commission at no additional cost to you if you purchase merchandise through links on my site. Read more on my
affiliate page
.
---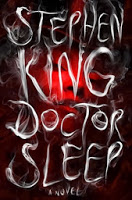 Life hasn't been easy for Dan Torrance since the events of The Shining. Now that he's an adult, his shining has faded a little but it's still too much for him to handle. Following in his father's footsteps, he's turned to alcohol to escape from his problems. He eventually hits his bottom and tries to turn his life around. He ends up in a small town in New Hampshire, where he senses a girl with a shining even bigger than his own. But a sinister group called The True Knot have sensed her as well and they know they would feast off the "steam" she would release if they could just get their hands on her to torture her to death. Dan and little Abra, with the help of a few friends, must find a way to defeat The True Knot and keep them from feeding off children with the shining.
It's been 10+ years since I've read The Shining or watched the movie so I can't address how well Doctor Sleep compares to it.
But I can tell you that I loved this book.
My one complaint is that it does feel a bit as if it's meandering at times. It took a very long time to even bring Abra into the story.
Eventually though, all of those little "tangents" tie into the bigger scheme of things. As the story twisted and I realized exactly how things were fitting together, I would just laugh out loud sometimes. Not because the story was funny but because I was delighted that King was taking me in directions that I did not see coming at all. That's starting to feel like a rare thing for me to find in an author. The book was much stronger for it as well.
I liked all the characters here or I hated them, but man, oh, man, I loved Abra. She was so fierce. I started telling my husband about her and he just interrupted me and said, "You're loving her, right? You always love that kind of girl." And yes, I was loving her, and yes, I always love those strong female characters. Abra was scared when she should have been scared but she sure as hell wasn't going to sit back and just let The True Knot take her. She fought back in ways that shocked them and me. I absolutely adored her.
Go out and read this one. I think you'll adore her too.
Read an excerpt.
Find author Stephen King on his website.
Buy Doctor Sleep at


I have an affiliate relationship with Malaprop's, my local independent bookstore located in beautiful downtown Asheville, NC; and Better World Books. I will receive a small commission at no cost to you if you purchase books through links on my site. My opinions are completely my own.