---
I have an affiliate relationship with
Bookshop.org
and
Malaprop's Bookstore
in beautiful Asheville, NC. I will earn a small commission at no additional cost to you if you purchase merchandise through links on my site. Read more on my
affiliate page
.
---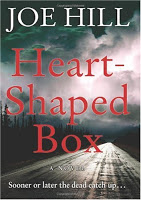 Rocker Judas Coyne thought it was a joke when he bought a ghost off the internet. Still, he's a collector of the arcane, so what could it hurt? An old man is haunting his daughter and granddaughter, so Judas might be helping them, but even if it's a joke, Judas can easily afford it. But the price is higher than he thought.
What a creepy, twisted ghost story! It was perfect for Halloween!
Judas and Georgia, the latest in his string of much-younger lovers, really don't know what hit them when this ghost shows up. The dogs know something is up and immediately react to the haunted suit.
It starts out fairly innocuous, with the radio turning on in the middle of the night, a horrible smell in the house, and the ghost just sitting out in the hall, but this ghost quickly amps up his attack, and before they know it, Judas and Georgia are fighting for their lives.
I loved all the twists this took. Just when I thought it was going to be a fairly straightforward ghost story, the ghost would get even more creative in his haunting, the stakes would be raised, I'd find out something about the ghost's abilities that made him terrifying, and then there's the ghost's agenda and past. I can't say that this book ever kept me awake or made me jumpy, but I'm surprised it didn't. This is one evil ghost.
Highly recommended for horror fans. It's very well-written, and I am coming to realize that I love Joe Hill's style. I'll be seeking out Horns soon.
Read an excerpt.
Find author Joe Hill on his website and Twitter (he's one of my favorite authors on Twitter).
Buy Heart-Shaped Box at
I have an affiliate relationship with Malaprop's, my local independent bookstore located in downtown Asheville, NC; and Better World Books. I will receive a small commission at no cost to you if you purchase books through links on my site.