---
I have an affiliate relationship with
Bookshop.org
and
Malaprop's Bookstore
in beautiful Asheville, NC. I will earn a small commission at no additional cost to you if you purchase merchandise through links on my site. Read more on my
affiliate page
.
---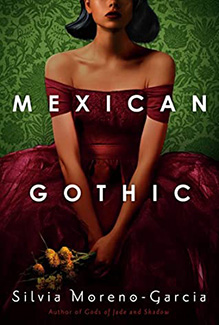 Title: Mexican Gothic
Author: Silvia Moreno-Garcia
Trigger Warning: Sexual Assault
Genre: Gothic, Horror
Audience: Adult
Format: E-book
My Synopsis:
Noemí Taboada is the toast of Mexico City. The beautiful, charming daughter of a wealthy businessman, she's in demand at every social event. Her parents want her to settle down with a nice young man but she wants to continue her university studies.
Her father calls her home early from a costume party one night and asks her to leave as soon as possible to visit her orphaned cousin, Catalina, whom the family adopted after she lost her parents. Catalina has recently married a relative stranger but Mr. Taboada received a disturbing letter from her that signifies all is not well at her new home. He's reached out to Catalina's husband but hasn't received satisfying responses. He wants Noemí to visit Catalina, assess the situation, and bring her home if necessary.
My Review:
Full disclosure: I requested Mexican Gothic from the library back in September or October, which is practically the only time of year that I seek out horror and/or Gothic reads. When my turn finally came up in November, I wasn't necessarily in the mood for this kind of book but I decided to read it anyway and see what all the fuss is about. Had I been in a Gothic mood, I would have enjoyed this more.
I liked Noemí. The bored society girl can be a turnoff for me but Noemí is intelligent and would honestly rather be in classes than at parties. She's also not selfish and genuinely cares about Catalina as if she were her own sister. When she interacts with people who aren't in her own social class, she generally treats them with respect rather than as a demanding rich girl. Catalina's father-in-law is a racist man of English descent who is very obviously interested in eugenics and makes demeaning statements about Noemí's skin tone and background. She argues about his stances with him and holds her own rather than just meekly submitting to her elders. She keeps pushing for answers even as everyone at this awful house tries to shut her down.
There is a strong Gothic vibe at High Place, the house Catalina now lives in. Florence, Catalina's sister-in-law/housekeeper, gives off strong malevolent Mrs. Danvers vibes. The three servants never speak. The house is falling apart and covered in mold but it obviously used to be beautiful. A faulty generator is the only source of electricity so mostly everyone wanders around with candles and lamps. No one speaks at meals.
The book builds slowly. Everyone is eccentric but the situation seems straightforward enough when the family doctor explains that Catalina has tuberculosis. As Noemí remains at the house and speaks more with Francis, the only member of the household who will take her seriously, she starts to have more questions. A tuberculosis diagnosis doesn't explain Catalina's erratic behavior, nor does it explain Noemí's growing unease. More odd incidents occur and Noemí starts to have incredibly vivid and disturbing dreams. These dreams (are they dreams?) might be a trigger for some readers. The pace starts to quicken until at the end I was quickly flipping pages to see exactly how this situation was going to resolve itself.
Speaking of resolutions, this one was…odd, in the way that I find Lovecraft's stories odd. I rolled with it though. While the book is complete in and of itself, I also see room for a sequel. Given the commercial success of Mexican Gothic, I think we can expect one.
Readers who enjoy atmospheric Gothic reads should enjoy this book. It does have some horror elements but they generally weren't terribly graphic.
Recommended by:
Nicole at BookWyrm Knits.
Similar Books:
If you liked Mexican Gothic, you might also like my reviews of
Purchase:
Buy Mexican Gothic from Malaprop's Bookstore in Asheville, NC.
I have an affiliate relationship with Malaprop's Bookstore/Cafe in beautiful Asheville, NC. I will earn a small commission at no additional cost to you if you purchase merchandise through links on my site.