---
I have an affiliate relationship with
Bookshop.org
and
Malaprop's Bookstore
in beautiful Asheville, NC. I will earn a small commission at no additional cost to you if you purchase merchandise through links on my site. Read more on my
affiliate page
.
---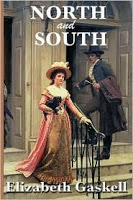 Margaret Hale is the daughter of a slightly-impoverished parson. She's been living as a companion to her wealthy cousin, but when that cousin gets married, she goes back to live with her parents. Shortly after the transition, her father announces that his beliefs have changed and he can no longer be a parson. He moves the family to Milton, a manufacturing town in the north of England. There, he works as a tutor for the wealthy men (both young and not-so-young) of the city.
Mr. Thornton, perhaps the wealthiest of the factory owners, becomes Mr. Hale's benefactor, favorite student, and friend. He spends quite a bit of time with the former parson and so gets to know Margaret. He falls for her beauty, intelligence, and grace almost from their first meeting. The same cannot be said of Margaret. She sees tradesmen as beneath her, perhaps because their work is more of a physical nature than an intellectual one. These are uneasy times in Milton. The workers want more money at a time when the "masters" see profits dropping and want to actually cut workers' wages. (Yes, cut wages. I can't say that I know much about unions, but they have an important place in our past and present.) Margaret gets to know a few workers' families and takes their side in any disagreements that arise. This of course leads to conflict between her and Mr. Thornton.
I really liked this. I didn't particularly love any of the characters, but I liked their stories, and I liked the social message that was worked into a love story. Or was it the love story that was worked into a social message?
The language and the romantic plot reminded me of Jane Austen. In fact, it reminded me a bit of Pride and Prejudice in that Margaret has such an intense dislike of Mr. Thornton right from the beginning, for no other reason than that he is a tradesman. Mr. Thornton, in his turn, appears to be a heartless factory owner who has no care for how his workers are living, but there is more to him than that.
There was quite a bit more action here than you would ever find in an Austen novel, however. Death after death (one, at least, even a violent death), proposals, a rioting mob–there really was a lot going on.
Margaret herself bothered me because she was such a snob. Her family barely had money to live on, but she thought she was better than rich Mr. Thornton, simply because he didn't inherit his money. She did unbend enough to help the poor factory workers, but it felt that there was a bit of condescension in her manner toward them. I do realize that I'm a 21st-century reader taking on a 19th-century book, but the descriptions of the squalor the workers lived in and how tacky it was for them to leave their washing out to dry irritated me. Poor does not necessarily equal dirty. And where else would they dry their laundry when there was barely enough room for all the family in the house?
Mr. Thornton bothered me with his attitude that the workers should know their place and their place was underneath him. He didn't really care if his workers had enough to live on. If they didn't, they needed to cut an expense here or there and then work their way up through the ranks. Clueless. When you're already barely feeding your family, there's no way to cut expenses.
I do realize that was largely the point of the novel. Gaskell was trying to show the conditions of the factories. By giving us these characters, she made it a more real situation.
Highly recommended for fans of Austen.
Read an excerpt.
I read this for Bookish Ardor's Off the Shelf Challenge and Reading Extensively's Page to Screen Challenge.
Buy North and South on
I have an affiliate relationship with IndieBound and Better World Books and will receive a small commission at no cost to you if you purchase books through links on my site.