---
I have an affiliate relationship with
Bookshop.org
and
Malaprop's Bookstore
in beautiful Asheville, NC. I will earn a small commission at no additional cost to you if you purchase merchandise through links on my site. Read more on my
affiliate page
.
---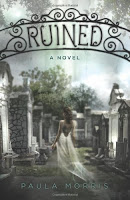 Rebecca Brown is a 15-year-old New Yorker. She loves everything about her life in New York. You can imagine her dismay when she finds out that she has to go live with her aunt in New Orleans for six months because her father is going to China on business. The traditions and groups in New Orleans mystify Rebecca at first, but she eventually finds a girl who hangs out in the cemetery whom she considers to be a friend.
Eh. I grabbed this when I was on the prowl for some Halloween reads, and it wasn't a huge hit with me. It's a good ghost story for younger young adults, but it felt very tame for this 30-something-year-old.
It's pretty obvious what's going on. I won't say that I guessed the entire story right away, but as I got little hints, I could definitely see the big picture developing.
There was a little too much high school drama with "She doesn't like me," "He's so hot," and "I'm never going to be asked to the dance." Perfect for the right age group, not so much for me.
It did finally get exciting in the last few chapters, just in time for everything to be resolved. I just felt like the rest of it crept along.
I do recommend this as a decent little ghost story for, oh, let's say the under-fifteens, but if you're looking for a spine-chilling ghost story, this isn't for you.
Read an excerpt.
Find author Paula Morris on her blog.
Buy Ruined at
I have an affiliate relationship with Malaprop's, my local independent bookstore located in downtown Asheville, NC; and Better World Books. I will receive a small commission at no cost to you if you purchase books through links on my site.