---
I have an affiliate relationship with
Bookshop.org
and
Malaprop's Bookstore
in beautiful Asheville, NC. I will earn a small commission at no additional cost to you if you purchase merchandise through links on my site. Read more on my
affiliate page
.
---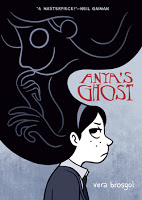 Anya falls into an abandoned well one day and finds herself alone with a skeleton. Needless to say, she is terrified. Especially after the ghost of a girl about her own age shows up. Anya is rescued fairly quickly and tries to put the whole experience behind her. But she's brought something back out into the daylight with her–the ghost. And Emily has no intention of going back into the darkness.
I was okay in high school. I really was. I had a group of awesome friends and we had a good time just doing our band geek thing. Still. I wouldn't want to be a teenager again. So books that bring those years so painfully to life just don't do much for me. And Anya's teenage years are painful to see.
She's a second-generation Russian (I'm 99% sure) immigrant. She's so ashamed of it. She hates being around her family and seeing the ways that they're different from other families. She hates being around a boy her age who has only recently left Russia and so has a heavy accent. She's ashamed of the food they eat and the clothes she wears and even her sturdy Russian body. She's got issues.
But Emily helps her to see exactly how ridiculous those feelings are. And not at all in the way that I expected. Emily just got freakier and freakier until she was downright scary by the end! She shows Anya exactly where her attitude could lead her and it is a dark, lonely, and psychotic place.
I truly liked the artwork and I wish I had liked the story more than I did. It's just that teen angst thing. If you are more forgiving of it than I am, pick this up. It is a creepy little book that will leave you thinking.
Read an excerpt.
Find author/artist Vera Brosgol on her website and Twitter.
Buy Anya's Ghost at
I have an affiliate relationship with Malaprop's, my local independent bookstore located in beautiful downtown Asheville, NC; and Better World Books. I will receive a small commission at no cost to you if you purchase books through links on my site.