---
I have an affiliate relationship with
Bookshop.org
and
Malaprop's Bookstore
in beautiful Asheville, NC. I will earn a small commission at no additional cost to you if you purchase merchandise through links on my site. Read more on my
affiliate page
.
---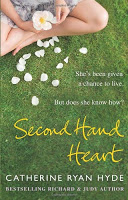 Vida is 19 years old and dying. She's been dying her entire life. Not in the vague way that we are all destined to die, but in a way that has led her through multiple heart surgeries in her short life. This time, it's for real. Her doctors are talking weeks if she's lucky. She's been bumped to the top of the waiting list for heart transplants. And then she gets a new heart and she's able to start living.
On the flip side, Richard has everything. A job and a wife that he loves. Until he loses Lorrie in a tragic car accident. He chooses to donate her organs and Vida gets her heart. Vida's and Richard's lives are forever entwined after that. The first time Richard walks into her hospital room after the transplant, Vida tells him that she loves him. She's never met him before, but she feels a deep, romantic love for him.
At my old job, I was the tiniest of tiny cogs in the transplant process. I did electrocardiograms on the donors so that doctors could make sure the heart was in good working order from an "electrical" standpoint. I was glad that the families had chosen to donate their loved ones' organs, but I hated that part of the job. I never saw the recipients (the actual transplant happened in larger hospitals), so I only saw the donors, and I knew that this beautiful child, wife, father, loved one would not be going home to his or her family. They were all beautiful and they were all young. I didn't do it often, but I was never able to detach myself from the sadness on that end. It was hard for me, to say the least.
It was nice to read a book where I could really sort of experience the life that comes out of such a tragic loss/beautiful gift. Vida, meaning life in Spanish, is a perfect mix of wisdom and innocence. She's led a very sheltered life by necessity. She hasn't been able to get out and run around and play, simply because her weak heart wouldn't let her. She's experienced most of her life from the inside of her house, looking out at the world through a window. Staring the reality of death down daily has led her to realize what is important in life though. Relationships, fairness, and honesty are always important to her. After the transplant, she wants to see as much of the world as she can and face everything on her own terms. She knows how much she's missed and she's making up for lost time.
Richard says something that really made me think. Vida's mother asks him why he decided to donate, and his first response is a stock reply of "Wouldn't anybody?" He talks through it a little and eventually comes to a reason that feels real. "I know why I donated. I wanted people to never forget her. As many as possible. This way I knew you would never forget her, and neither would Vida. And anybody who loved Vida. And the woman in Tiburon who got her corneas, she'll never forget Lorrie, and neither will her family and everybody who loves her. And I could go on with the other organs, but … I wanted as big a group of people as possible to think about Lorrie on an ongoing basis. Not just get over it and forget." That's possibly one of the most compelling reasons I've ever come across for organ donation. Sure, saving a stranger's life should be the best reason, but in the throes of grief, it's got to be hard to think about that. Something that helps others remember your loved one? That might get through.
Vida's best friend is her neighbor, Ethel, a 90-ish concentration camp survivor. You know I'm drawn to concentration camp stories, so I liked the element. There was a reason for it though. After Vida's transplant, they have a thoughtful conversation about the purpose of a life that came so close to death. Ethel has lived her life in a bubble, almost afraid to live. Vida is choosing to seize the opportunity she's been given and squeeze everything she can out of it.
The biggest part of the book revolves around cellular memory. I don't think I've ever heard about this, but I'm curious. Apparently there's a hypothesis that our memories do not reside solely in our brain; our very cells might retain memories. Think about what that would mean in organ donation. Scientists are studying recipients who suddenly develop traits similar to the donors whose organs they've received, or even "remember" things that never happened to them but did happen to the donor. It was pretty fascinating. There's a brief overview at the San Francisco Medical Society page.
I liked the way things turned out. I won't go into it, I just wasn't sure that I was very happy with the obvious ending, but there was a twist that made me very happy.
I was expecting sort of a light chick-lit book when I started this. I'm left with a lot to think over, and I'm very happy about that. There's a lot going on in this short-ish novel. I recommend it. My thanks to the author for providing me a copy in exchange for my unbiased review.
Read an excerpt.
Find author Catherine Ryan Hyde on her website, her blog, Facebook, and Twitter.
Buy Second Hand Heart at
I have an affiliate relationship with Malaprop's, my local independent bookstore located in downtown Asheville, NC; and Better World Books. I will receive a small commission at no cost to you if you purchase books through links on my site.