---
I have an affiliate relationship with
Bookshop.org
and
Malaprop's Bookstore
in beautiful Asheville, NC. I will earn a small commission at no additional cost to you if you purchase merchandise through links on my site. Read more on my
affiliate page
.
---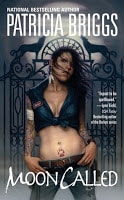 Mercy Thompson is a walker. Not that kind of walker. A "skinwalker." She can shift into coyote form easily and at will. Her sexy neighbor is the Alpha of the local werewolf pack. She's good friends with a vampire. Her life isn't exactly normal. When a new lone werewolf shows up at her garage one day looking for work, trouble follows him to Mercy's doorstep. Mercy has to figure out what's going on before her friends and family get hurt.
I loved this! Mercy is a great character. She's smart, loyal, caring, funny, and sarcastic. She can hold her own against all the Alpha men in her life. And, oh those Alpha men….
There were a lot of men to choose from here. Adam is the ex-military guy who sticks his nose into Mercy's business whether she wants him to or not. There's a lot of history between Samuel and Mercy. Warren is loyal to his pack and the rules at any cost. There are actually more, if you can believe that. I don't know why I liked all these guys so much; I generally can't stand overly-dominant men in person. But these guys didn't just see themselves as powerful. With their power came responsibility to those weaker than themselves, and they took that responsibility seriously. That must be the difference for me.
Briggs filled in the details of this world pretty smoothly. I never felt like I was just getting an info dump. A couple of times Mercy explained to a werewolf something like how the werewolves would defeat the vampires in a battle and I was pulled out of the story enough to think, "Honey, he knows that. Oh. That was for my benefit." And then I moved on.
I know that I'm probably in the minority here, but I really dislike these covers with the half-naked women on them. I would never have picked this up on my own. Luckily, some friends whose opinions I trust recommended this, so I gave it a shot. I just can't help but wonder if this cover pushes away more readers than it draws in. To me it looks like the paranormal equivalent of a bodice-ripper. If that's your thing, that's fine. But it's not my thing, and I can't be the only one. Mercy wears a t-shirt, jeans, and sneakers through almost the entire book. Not sure where the sex bomb came from.
Anyway. If you're like me and the cover puts you off, try to overlook it and give it a try. There's plenty of chemistry and tension, but that's all. It's a great book with a lot of great characters. I can't wait to dive into the next one and see what Mercy gets into next.