---
I have an affiliate relationship with
Bookshop.org
and
Malaprop's Bookstore
in beautiful Asheville, NC. I will earn a small commission at no additional cost to you if you purchase merchandise through links on my site. Read more on my
affiliate page
.
---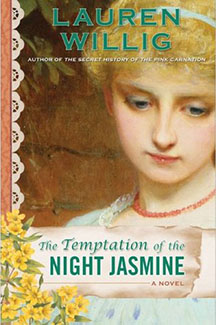 Title: The Temptation of the Night Jasmine
Author: Lauren Willig
Series: Pink Carnation #5
Genre: Romance, Historical Romance, Humor, Historical Fiction, Women's Fiction
Audience: Adult
Format: Hardcover
My Synopsis:
Henrietta Dorrington's best bookish friend, Charlotte Lansdowne, stars in her own adventure in the latest installment in The Pink Carnation series. Her childhood infatuation, Robert, Duke of Dovedale, has returned from India. But he's sending her decidedly mixed signals. Is he interested or not? Or is he involved in his own spy game?
My Review:
Charlotte just isn't quite Henrietta, Letty, or even Mary. She spent much of the book just fantasizing about Robert. While interesting enough, I kept waiting for the comedy of misunderstandings and the adventure of French spies pitted against our faithful British crew to get started. About halfway through, things finally took off, Charlotte grew a backbone, and I got really interested. I think I finished the second half of the book in one night in bed, while it had taken me several days to get through the first half.
As for Robert–well, he just never felt very real to me. Since I mostly saw him through Charlotte's eyes, and he honestly wasn't very real to her either, I guess that's understandable. But he won't be competing with Miles for my affections anytime soon.
The humor that I've loved throughout the series still had me giggling like a schoolgirl, and I liked the historical backdrop of this novel. It's a few years later (I think), and I still can't say that I know anything about the period, but I can say that this American girl is a little more interested in "mad King George" than in Napoleon. Is it shameful for someone who reads as much historical fiction as I do to admit that?
I'm about to forget Eloise and Colin. I've never been very interested in their present day story, but I did finally get curious about what was going on this time. Let's just say that Colin has been keeping secrets.
I highly recommend this to those who don't take their historical fiction too seriously and who don't mind some romance thrown in for good measure. Now I can't wait for the next in the series to come out!
Similar Books:
If you liked The Temptation of the Night Jasmine, you might also like my reviews of
Purchase:
Buy The Temptation of the Night Jasmine from Malaprop's Bookstore in Asheville, NC.
I have an affiliate relationship with Malaprop's Bookstore/Cafe in beautiful Asheville, NC. I will earn a small commission at no additional cost to you if you purchase merchandise through links on my site.