---
I have an affiliate relationship with
Bookshop.org
and
Malaprop's Bookstore
in beautiful Asheville, NC. I will earn a small commission at no additional cost to you if you purchase merchandise through links on my site. Read more on my
affiliate page
.
---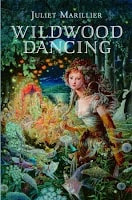 Loosely based on The Twelve Dancing Princesses, among other fairy tales, Wildwood Dancing is the story of five sisters who disappear into The Other Kingdom for a fairy revel every full moon night. But when their father leaves them alone to spend the winter in another city, their cousin, Cezar, realizes something is going on and starts making their lives difficult.
So maybe there's nothing deep or thought-provoking here. This was still a hugely fun book. It's pretty obvious that this is a re-telling of The Twelve Dancing Princesses, but there are some other fairy tales thrown in. I enjoyed seeing how all of them fit together to make this tale.
Jena is the second-oldest sister and the narrator of the book. I loved her. I have noticed in Marillier's other books that her female characters rock, and this one isn't any different. She's intelligent, capable, caring, but also maybe a little blind and naive about some things. Her sisters are a little bit of a disappointment. They don't really have huge roles to play, so they fall more into stereotypes. The pretty one. The smart one. The flirt. The baby. But for me, that just fell right into the spirit of a fairy tale. If you really think about it, aren't they generally peopled with stereotypes that prevent a lot of needless explanation?
Cezar was bad enough for me to really despise him, but he didn't cross this weird line I have where I hate the bad guy too much. He was an insufferable, chauvinist prick who infuriated me, but at the same time I loved it. Go figure.
Once I realized that there were so many stories being woven together to make this one, I started to worry a little that there was no good way to wrap it up. But it all comes together in the end. I do have one or two lingering questions that I would like to have answered, but that's just me. Everything really does wrap up nicely in the end.
If you love fairy tale re-tellings, go pick this one up. You won't be disappointed.
My review of Cybele's Secret, a companion novel to Wildwood Dancing.