---
I have an affiliate relationship with
Bookshop.org
and
Malaprop's Bookstore
in beautiful Asheville, NC. I will earn a small commission at no additional cost to you if you purchase merchandise through links on my site. Read more on my
affiliate page
.
---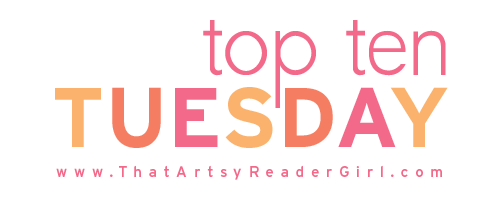 Jana at That Artsy Reader Girl invited us to share our top ten book titles that would make great song titles this week. This is such a fun topic!
Country
Don't Make Me Choose Between You and My Shoes by Dixie Cash–Every title in the Domestic Equalizer series by the sister writing duo known as Dixie Cash sounds like a title of an old-school country song. They crack me up! This one would be something like "My Give a Damn's Busted" by Jo Dee Messina
Pop Songs
The Art of Hearing Heartbeats by Jan-Philipp Sendker–This sounds like a slow love song that gets played at every wedding in a given year
The History of Love by Nicole Krauss–A slow ballad
Girl in Translation by Jean Kwok–A girl power anthem
Rock
Ghost Riders by Sharyn McCrumb–This just makes me think of "Riders on the Storm" by The Doors
When I Found You by Catherine Ryan Hyde–I can hear an '80s hair band singing this. In my head, it sounds something like "I'll Never Let You Go" by Steelheart
Christmas
The Stupidest Angel by Christopher Moore–One of those silly Christmas songs like "Leroy the Redneck Reindeer" by Joe Diffie
Gospel
I was on the phone with my mom talking about my aunt's church while I was looking through my reviews for this post. These book titles jumped out at me as sounding like the gospel songs I grew up singing, songs like "Amazing Grace" and "I'll Fly Away."
This Dark Road to Mercy by Wiley Cash
The Bright Forever by Lee Martin
Castle in the Air by Diana Wynne Jones
That's my list! Have you read any of these? Do you think they belong in a different music genre? Which book titles did/would you choose? Link up every Tuesday at That Artsy Reader Girl!
I have an affiliate relationship with Malaprop's Bookstore/Cafe in beautiful Asheville, NC. I will earn a small commission at no additional cost to you if you purchase merchandise through links on my site.