---
I have an affiliate relationship with
Bookshop.org
and
Malaprop's Bookstore
in beautiful Asheville, NC. I will earn a small commission at no additional cost to you if you purchase merchandise through links on my site. Read more on my
affiliate page
.
---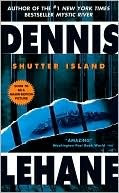 Teddy Daniels is a U.S. Marshal and the main character in Shutter Island by Dennis Lehane. There's a lot going on with Teddy and it's going to be hard to write about him without giving away spoilers. I will do my best.
Teddy is the strong silent type. He's been sent to Shutter Island, an asylum for the criminally insane, to search for an escaped inmate. A mother of a storm is blowing up, but that doesn't deter him. He has his own reasons for wanting to check out the island and the residents.
His partner is new to him, Chuck Aule. On the ferry ride, Chuck and Teddy strike up a fairly easy camaraderie by doing a quick little check of location and unit served during World War II. I loved their interactions.
Teddy is haunted by memories of his wife. (I can't even remember her name. Dora? Something like that.) Seriously. He's repressing too much around her memory and his psyche is not handling it well. He lapses into thoughts of her at the oddest times and has very intense dreams about her despite trying not to think about her. He just doesn't seem to be able to move on.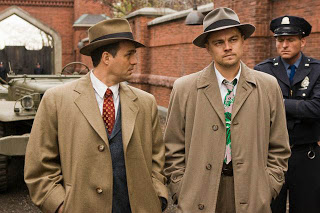 Teddy realizes that something strange is happening on this island pretty quickly. He's not getting much real help from anyone in his investigation and the escape doesn't make any sense. But Teddy is hard core and goes all out to find out what happened. A hurricane doesn't even stop this man. He's out doing what needs to be done in the pelting rain and roaring wind.
He keeps finding cryptic clues in odd locations. He's a fantastic investigator, making intuitive leaps that you just know have to be right. He's also learned to trust no one and nothing. His constant questioning will have you a little edgy yourself.
And that's where I'm going to have to leave it. I haven't even gotten to the parts that really make him memorable. You have to read his story to believe it.
Leonardo di Caprio did a great job portraying Teddy. He was a little…harder? than I pictured Teddy, but I was still satisfied with the performance.
Who did you connect with this week? Link your post on Mr. Linky, then be sure to go check out the other Character Connections!
Don't you just love larger-than-life characters? The ones who jump off the page and grab you? Whether you love them or hate them, you can't be indifferent to them.

I would love to know about the characters who just won't leave you! Most of you will probably post about how much you love (or loathe) each character, but this is a great place for the more creative ones among you to let go and have fun! Write yourself into a scene with Anne and Diana. Write a love poem in elvish for Aragorn. Draw a picture of Harry obliterating Voldemort. The possibilities are endless.

Be sure to post the book's title and author, and be very careful not to give away spoilers while talking about how much you love your characters.

Mr. Linky will be posted here on The Introverted Reader every Thursday.
I have an affiliate relationship with Malaprop's, my local independent bookstore, and Better World Books. I will receive a small commission at no cost to you if you purchase books through links on my site.