---
I have an affiliate relationship with
Bookshop.org
and
Malaprop's Bookstore
in beautiful Asheville, NC. I will earn a small commission at no additional cost to you if you purchase merchandise through links on my site. Read more on my
affiliate page
.
---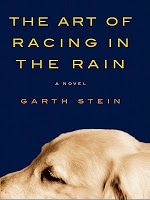 Enzo, the narrator of The Art of Racing in the Rain by Garth Stein, is a dog. But not just any dog; he believes that he has gained the wisdom to come back in his next life as a man. I agree. If anything, he's probably too wise to be one of us.
I loved Enzo from his first sentence. I have to own up to being more of a cat person, but I do love well-behaved dogs too. I have zero patience for dogs who yap and bark and jump all the time. But the quiet ones who will have your back when you need them? They rock. Enzo is one of those.
Enzo sees all the ways that people hurt each other, in big ways and in small. Denny, his owner, goes through some serious trouble with his in-laws after his wife's death. Enzo can't understand why people would act that way. Everyone is hurting in that situation. Why make it worse by lashing out and being nasty?
He comments on the fact that people rarely just listen. Even when we appear to be listening, we're really just formulating our responses to what the other person is saying and then derailing the conversation in the direction we want it to go. He feels superior to us in that respect. He knows that he can't verbally communicate, but he knows that his value as a listener is unmatched.
Enzo also sees that we spend too much time worrying about the past and the future instead of the here and now. That's where the title comes from. Denny, a race car driver, has won many races when rain started falling because he has a talent for letting all conscious thought go and just reacting to what's in front of him. That enables him to get through the tight places even at their most dangerous. He's not thinking; he's just being. Enzo thinks people need to do more of that too.
Do you know a dog like Enzo? My younger cousins have a black lab mix named Chase who has Enzo's wisdom. And your back. He is just awesome.
Who have you connected with recently? Link your post on Mr. Linky, then be sure to go check out the other Character Connections!
Who do ya love?

Or love to hate?

You know you've got a lot to say about some larger-than-life characters, and this is the place to say it. Write a straightforward post. Draw a picture. Vlog, write poetry, write fiction, cast the role, be as creative as you want!

Be sure to post the book's title and author, and be very careful not to give away spoilers while talking about how much you love your characters.

Mr. Linky will be posted here on The Introverted Reader on the first Thursday of every month.
I have an affiliate relationship with Malaprop's, my local independent bookstore located in beautiful downtown Asheville, NC; and Better World Books. I will receive a small commission at no cost to you if you purchase books through links on my site.