---
I have an affiliate relationship with
Bookshop.org
and
Malaprop's Bookstore
in beautiful Asheville, NC. I will earn a small commission at no additional cost to you if you purchase merchandise through links on my site. Read more on my
affiliate page
.
---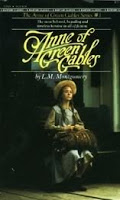 Anne of Green Gables was my favorite book as a child. The first time I read it, I hate to say, I thought it was boring and gave up. I tried again later and fell in love. I've read all the books in the series (and all of L. M. Montgomery's books) countless times since then. I haven't written about many of her characters, and that's because I just love them all too much. They're like family and friends. I wouldn't do them justice.
But I watched Anne of Green Gables for the first time in umpteen years over the weekend, and I fell in love all over again. So here's my attempt to sing Matthew's praises.
Matthew is a silent farmer. He avoids women when he can and blushes and stammers around them when he can't. But some woman missed a good thing in Matthew.
He is the first person to love Anne. Oh, I just know that her parents loved her when she was an infant, but he's the first to love her within her memory. I do believe she charmed him on their first ride together on the way to Green Gables. He, along with Marilla, gave Anne what she needed to grow into the well-rounded character that so many people love.
He agrees early on to stay out of Marilla's way when it comes to "raising" Anne. But he is a wise man who knows when to choose his battles. He lies low most of the time, silently watching and absorbing everything going on around him, but when he speaks his mind, Marilla listens. And he ultimately gets his way.
The confirmed, painfully shy old bachelor somehow knows that a child needs laughter and light as well as discipline. Marilla provides for everything that Anne needs, but Matthew takes care of a lot of her wishes. Even when it mortifies him to ask someone else to help him, he puts aside his personal comfort for Anne's sake. And isn't that one way to define love? Putting someone else before yourself?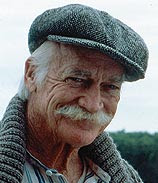 Matthew really never says much in the book, but he is in a sense at the heart of the story.
And can I say that he makes me cry every single time I read this book? Every. Single. Time. And I have seriously lost count of how many times I've read it. I teared up again watching the movie this weekend.
Richard Farnsworth played Matthew in the movie, and he was absolutely perfect. I have never seen anyone blush and stutter like that.
Who did you connect with this week? Link your post on Mr. Linky, then be sure to go check out the other Character Connections!
Don't you just love larger-than-life characters? The ones who jump off the page and grab you? Whether you love them or hate them, you can't be indifferent to them.

I would love to know about the characters who just won't leave you! Most of you will probably post about how much you love (or loathe) each character, but this is a great place for the more creative ones among you to let go and have fun! Write yourself into a scene with Anne and Diana. Write a love poem in elvish for Aragorn. Draw a picture of Harry obliterating Voldemort. The possibilities are endless.

Be sure to post the book's title and author, and be very careful not to give away spoilers while talking about how much you love your characters.

Mr. Linky will be posted here on The Introverted Reader every Thursday.
I have an affiliate relationship with Malaprop's, my local independent bookstore, and Better World Books. I will receive a small commission at no cost to you if you purchase books through links on my site.