---
I have an affiliate relationship with
Bookshop.org
and
Malaprop's Bookstore
in beautiful Asheville, NC. I will earn a small commission at no additional cost to you if you purchase merchandise through links on my site. Read more on my
affiliate page
.
---
Don't you just love larger-than-life characters? The ones who jump off the page and grab you? Whether you love them or hate them, you can't be indifferent to them.

I would love to know about the characters who just won't leave you! Most of you will probably post about how much you love (or loathe) each character, but this is a great place for the more creative ones among you to let go and have fun! Write yourself into a scene with Anne and Diana. Write a love poem in elvish for Aragorn. Draw a picture of Harry obliterating Voldemort. The possibilities are endless.

Be sure to post the book's title and author, and be very careful not to give away spoilers while talking about how much you love your characters.

Mr. Linky will be posted here on The Introverted Reader every Thursday.
Elizabeth McKenna is not physically present in The Guernsey Literary and Potato Peel Pie Society by Mary Ann Shaffer and Annie Barrow, nevertheless she is the heart of the story.
Elizabeth has a talent for drawing people to her. They might normally be loners, but no one can resist her charm. She is the one who stuck a disparate group of people with such an awful name for a society.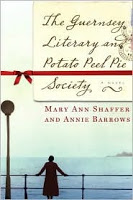 After an illegal pig roast on the German-occupied island of Guernsey during WWII, the partakers were on their way home after curfew. They knew they were in trouble when a group of German soldiers stopped them. Quick-thinking Elizabeth concocted a story about how they were just leaving a society meeting. They were allowed to safely go on their way with a warning. She knew that the Germans might start watching them to see if there really was a society, so she brought the society into being. Very few of the members were already readers, yet they all learned the power of books to transport you out of your circumstances. I think they were mostly all grateful to her for teaching them the value of books.
What really stands out about Elizabeth is her loyalty and courage. One character describes her as "fierce in her feelings." She isn't even a Guernsey native, but when they realize the German occupation is coming, she chooses to stay with her closest friend, who is pregnant and can't leave the island. She is an artist but she chooses to work as a nurse during the Occupation, helping where she can. She is finally arrested and sent away to a concentration camp when she is caught helping one of the Polish slaves the Germans brought with them. She still hasn't been heard from as the book opens at the end of the war.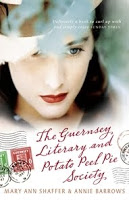 Elizbeth sees people for their own value. It would be easy to hate all Germans for what they are doing to this beautiful little island. Elizabeth falls in love with a German soldier. He is good and kind and hates the war, but he has to survive the best he can, just like everyone else. She proudly has his child even though they never married.
She has a gift for spreading laughter and beauty wherever she goes. One person tells a story about their laughter as Elizabeth took up the unsavory task of treating her for scabies. It was unpleasant for both of them but they both giggled as they played a clever game Elizabeth invented. Someone who was in the concentration camp with Elizabeth tells about how Elizbeth took her to watch a beautiful sunset in an out-of-the way place.
Really, Elizabeth's character is generally summed up in a dedication her lover made to her in a book of poetry: "To Elizabeth–who turns darkness into light."
Who did you connect with this week? Link your post on Mr. Linky, then be sure to go check out the other Character Connections!
I have an affiliate relationship with Malaprop's, my local independent bookstore, and Better World Books. I will receive a small commission at no cost to you if you purchase books through links on my site.