---
I have an affiliate relationship with
Bookshop.org
and
Malaprop's Bookstore
in beautiful Asheville, NC. I will earn a small commission at no additional cost to you if you purchase merchandise through links on my site. Read more on my
affiliate page
.
---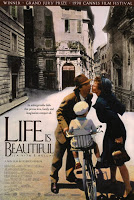 A charming, fast-talking Italian man tries to win the heart of his "principessa." A few years later, he uses his boundless imagination to protect his young son from the realities of life in a concentration camp.
I absolutely loved this movie. I'm not a huge movie buff, tending to fall asleep about halfway through almost everything, so it really means something for me to say that. Don't get me wrong, I do like movies, but I rarely love them.
The first part of this lovely movie is like a fairy tale. Guido (Roberto Benigni) meets and falls in love with beautiful Dora (Nicoletta Braschi), who is already engaged to another man. Guido is so charming and funny that she finds it almost impossible to resist him. I did find it impossible to resist him. Benigni's performance is spectacular. He is excellent with the physical comedy that had me laughing continuously throughout this part of the movie. My husband very rarely laughs until he can't breathe, but he got to that point a few times throughout this first part. My favorite scene might have been the section where Guido jokingly uses his own skinny little body to extol the virtues of the Italian people. My poor husband has had to endure me singing the praises of his Cuban belly button in Guido-style ever since.
A few years later, Guido is still a happy-go-lucky prankster, but times have changed. Soldiers are everywhere. As a Jew, authorities are keeping a very close eye on him. Then one day, he, his elderly uncle, and his young son are rounded up on a cattle train. We all know what that means. My heart started to hurt. I had fallen in love with this character. I didn't know if I could keep watching.
But Guido sets out to use his charm and humor to protect his very young son from the realities of their situation. It's hard to be afraid when you think all the hiding and silence is part of a big game in which first prize is a real tank. (To clarify, young Giosué's favorite toy is a tiny tank). My heart stopped throughout all the close calls, and it ached for the father who was trying so desperately not just to protect his son, but to protect his innocence as well. This was where Benigni really just blew my socks off. He was still the comic, with some very physical comedy, but throughout everything you could read the worry and dread he was feeling as well. I don't know how an actor pulls that off. He won an Oscar for his performance (the first man to win in a non-English speaking role) and he definitely earned it.
This part was still gently done. Anyone familiar with the Holocaust can connect the dots and know exactly what is going on, but any violence happens off screen. I took away the message that love and faithfulness and laughter will always defeat evil in the end. It's refreshing to find something like that in a movie.
Part of the power of this movie, for me anyway, is that it starts in the "good times." How many movies centered around this time period start when things are already bad? Benigni chose to show us exactly how good Guido's life was and how much he stood to lose in the Holocaust. Very powerful stuff there.
This is an Italian film with English subtitles, but please don't let that put you off. I cannot recommend this movie enough. It is now one of my favorites.
See Roberto Benigni's (in)famous acceptance speech when Life is Beautiful won the Oscar for Best Foreign Film. He wrote, directed, and starred in it.
I have an affiliate relationship with Malaprop's, my local independent bookstore, and Better World Books. I will receive a small commission at no cost to you if you purchase books through links on my site.