---
I have an affiliate relationship with
Bookshop.org
and
Malaprop's Bookstore
in beautiful Asheville, NC. I will earn a small commission at no additional cost to you if you purchase merchandise through links on my site. Read more on my
affiliate page
.
---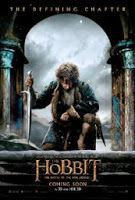 My husband and I went to see the new Hobbit movie Saturday night. It's been 20+ years since I read the book so I haven't been plagued with the urge to compare it to the movies, which has been pretty nice. I've been able to just sit back and enjoy the spectacle.
Then we got to the third movie.
I've been wondering how such an average-sized book could possibly be made into a movie trilogy without ruining it. They saved the worst for last.
Luis and I were both disappointed. I had a feeling we might be when the second movie just stopped right in the middle of everything. Well-written movies (or books for that matter) shouldn't have to rely on such blatant cliffhangers to keep viewers coming back. The third movie did pick up right where the third one left off but I knew we were in trouble when that particular scene ended within what felt like five minutes. What could possibly be left?
Apparently just a bunch of seemingly endless fight scenes and a whole lot of stuff about Thorin losing his mind to "The Dragon's Sickness," i.e. greed. There was very, very, very little plot. I wrote on Facebook that the money they should have spent on a plot went toward the endless CGI war. I walked away feeling like I had watched a 2.5 hour battle.
Of course there were smaller fights within the larger battles and those just got ridiculous. I'm sitting there as someone comes back for literally the fourth or fifth time after we thought he'd been killed off, muttering, "You've got to be kidding me." And then there was another individual fight that did not keep resurrecting one of the combatants but it managed to be even worse so then I'm sitting there saying, "You've got to be freaking kidding me."
Close to the end a reference was made to a Lord of the Rings character who could not possibly have even been born at this point. It didn't sound like a prophecy to me, it sounded like, "Oh, you should go meet this guy." But there's a chance I misunderstood. My sister has explained this to my satisfaction. Still, unless you've memorized the LOTR books/movies, you'll be as confused as I was.
I think the writers were trying to match the death rate of Game of Thrones. I have no idea who lives or dies in the book but I was getting pretty upset by the end of the movie.
As Luis and I drove home, we were even trying to figure out who the five armies were. Were there two orc armies? Two dwarf armies? An army of wild creatures? We only feel like we're on solid ground with four so we don't really know where the title came from.
If I didn't love these movies so much, I probably wouldn't have been this disappointed so I know I'm not being fair. If you've seen them all on the big screen, I know you're going to finish that way. If you've caught them as rentals, you'll be fine sticking with that.
I have an affiliate relationship with Malaprop's, my local independent bookstore located in beautiful downtown Asheville, NC; and Better World Books. I will receive a small commission at no cost to you if you purchase books through links on my site. My opinions are completely my own.